Roxy Model Search - Become the Next Roxy Spokesmodel!
Meet Roxy's First Every Spokesmodel: BRANDI!!!!!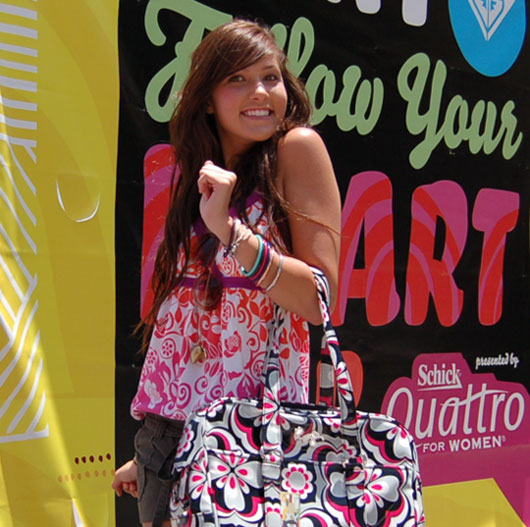 This 17 year old is from Laguna Beach, CA. She was a finalist at the Irvine Spectrum spokesmodel search event. Roxy chose Brandi because she epitomizes the ROXY spirit - she is fun and alive, daring and confident. She also has an excellent sense of personal style and will make a great spokesmodel for ROXY!!!
Q: What are you most excited about becoming the Roxy spokesmodel?
Brandi: I'm most excited about letting girls know it's ok to go outside your box when it comes to fashion. Pushing the limits is what it's all about; hit or miss, at least you're trying something new!

Q: What does Roxy mean to you?
Brandi: Roxy, to me, symbolizes girls who are confident, active, and fun-loving!

Q: How would you describe your personal style?
Brandi: A mix between "beachy-relaxed" and "LA trendy".. if that makes any
> sense :)

Q: What was the event like at the Irvine spectrum?
Brandi: It was so amazing, my mom and I pulled up and thought "Ooh there it is!" You couldn't miss the huge Roxy tents, runway, DJ booth, and signs! It was fun seeing all the girls get interviewed, I had crazy butterflies when it was my turn! When they announced the top three that day, my mom screamed so loud, you could probably hear her in Hawaii!

Q: If you could travel anywhere in the world where would you go and why?
Brandi: My dream vacation is to go to Australia and New Zealand! A friend of mine went last year, and I was so jealous! I love to watch surfing, and it would be fun to go to a place so new and take it all in!

Q: What is your best memory from this summer?
Brandi: Becoming the Roxy Spokesmodel of course!!
Be on the look out for Brandi in the future. Congratulationts!
A BIG THANK YOU to all of you who came out to the different spokesmodel searches. We loved meeting you and had a blast at our fashion shows.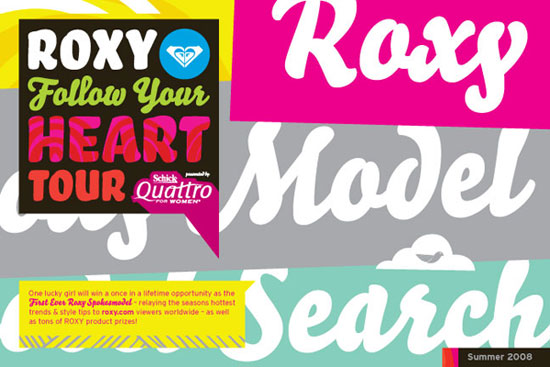 Follow Your Heart Tour--Roxy Model Search!
One lucky girl will win a once in a lifetime opportunity as the FIRST EVER ROXY SPOKESMODEL—relaying the seasons hottest trends & style tips to roxy.com viewers worldwide as well as tons of ROXY product prizes!
Join the Roxy Follow Your Heart tour along with Teen Vogue and Ford Models to show us your passion for fashion!
Come Walk the Catwalk at these locations!
We will hold model castings and the Fashion Show on the same day. One winner will be chosen from each event and will be entered to win overall grand prize of national ROXY spokesmodel.
Add the event to your facebook profile!

*times subject to change
*************************2008 Spokesmodel Search!************************************
CA-Irvine Spectrum, Irvine - June 6/7 SPECIAL TIME: Friday: 2-6 PM, Saturday: 12 noon
OR- Washington Square Mall - June 13/14, SPECIAL TIME! Friday: 2 - 6 PM, Saturday: 1 pm
MN – Mall of America, Bloomington – June 20/21, Friday: 10 am - 2 pm, Saturday: 1 pm
ONE DAY EVENTS!!!!!
MI –The Somerset Collections Mall, Troy - June 28, Saturday: 10 am
FL—Ron Jon Surf Shop, Cocoa Beach - July 12, Saturday: 10 am

NY—Roosevelt Field Mall, Long Island - July 19, Saturday: 10 am
For information about Canada events click here
- Regional winner at each model search receives:
A one-on-one consultation with the Ford Models Scout – to guide and direct you on the next steps in going after your dream.
As well as shot at being the first ever Roxy spokes model. She'll also receive a Roxy shopping spree, Roxy product, and much more!
- Run thru:
Casting: 10-2pm
Deliberation: 2-3pm
Winners announced: 3pm
Hair and makeup done: 3-5pm
Fashion show: 5pm
Casting will happen on first – girls will line up, fill out a survey, take a Polaroid (say cheese!) and be called up in front of the judge's panel. She will then be asked three questions in regards to fashion, following her heart, and Roxy – by each of the judges (Roxy, Teen Vogue, and Ford). She will then do her best runway walk.
At the end of the casting 3 girls will be nominated to walk in the fashion show. Those three girls will get pampered and styled by Teen Vogue and Roxy. They will be walking in fashion show the next day where the competition continues!
The 3 judges will judge how they do on the runway. The MC will be talking with them and about them as the walk. Then the nominees take a turn on the mic – answering questions about fashion, trends, etc. The girls will be judged on their overall presence, attitude, confidence, and ability to articulate the current fashion trends and tips to viewers. We are looking for that next Roxy girl - fun and alive, daring and confident and naturally beautiful. This is what it will take to be the FIRST EVER ROXY SPOKESMODEL! One regional winner will be chosen per location.
What Does the Roxy Spokesmodel Do?
After all model searches have concluded, one national Roxy spokesmodel will be chosen from the regional search winners. This winner will be flown out to Roxy headquarters in beautiful Huntington Beach and brought into the Roxy studio to give online viewers a behind the scenes look at the online shoot. She will take the shoot even further thru video - articulating the seasons trends and how Roxy wearers can make them their own!
Fine print!
- must be able to be present both days in order to win. If nominee is not available on Saturday then another nominee will be chosen. Nominees will be announced in person at the end of the casting on Friday. Must be present to win.
Age: 13 and Up
Must be a citizen of the US or Canada
What to bring: Yourself!
NO HEIGHT OR WEIGHT REQUIREMENTS!
Judges will determine the type of girl who will fit the Roxy spokesmodel look!