A Day in the Life of a Roxy Intern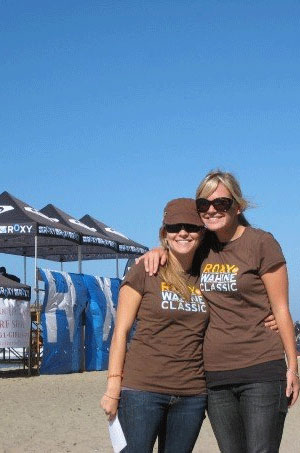 Ever wonder what it's like to intern for the coolest surf company around?

Lucky for you, I'm here to give you the inside scoop into the Roxy world. My name is Stephanie Beal and I am a senior public relations major at Chapman University (yep, I actually have to grow up in three months!). I have been interning for the Roxy public relations department for about seven months and I have learned so much, met some really chill people and have had so much fun in the process. But this internship isn't like any other...it's so much better.
"Wash my car"—um, no. "Get me coffee"—not before I get mine, dude. "Dig through my trash, I lost an expense report"—now that's just gross! As a Roxy intern, I get none of these wacky requests. In fact, at my internship, being a Roxy girl means showing up to work on a skateboard.
No doubt about it, I have the coolest internship ever. I work in the public relations department and basically get to flip through magazines such as People and In Style for Roxy product, pick out outfits for our athletes to wear in photo shoots, and help plan media strategy for awesome events such as the upcoming 4th Annual Roxy Chicken Jam at Mammoth Mountain, CA. That's just the start of it. No two days as a Roxy intern are the same.
The other day we had a bit of a crisis. Roxy pro surfer, Sofia Mulanovich, (who, by the way, just won the 2008 Roxy Pro Gold Coast in Australia!) was scheduled to do a cover shoot for a magazine at a nearby beach. There was one problem, all the clothes at the shoot were the wrong size. We had a mission: find cute clothes from this season for Sofia to wear—in one hour. Ready…go! We started at the sample closet pulling boardshorts, t-shirts and wetsuits. I went over to the swim merchandising and design area and asked for a few bathing suits to take with us and we ran back to the warehouse and grabbed some colorful shorts and denim mini-skirts. And lucky for me, I got to hand deliver the clothes to the beach location and watch the beautiful Peruvian smile for the cameras. Although it was freezing at the beach, Sofia laughed it off in total Roxy girl style.
I can't wait to see how the cover turns out. And I'm proud to say that as an intern, I helped make that photo shoot happen! All in a days work as a Roxy intern.
Stephanie