Join Us To Clean-Up Cardiff State Beach!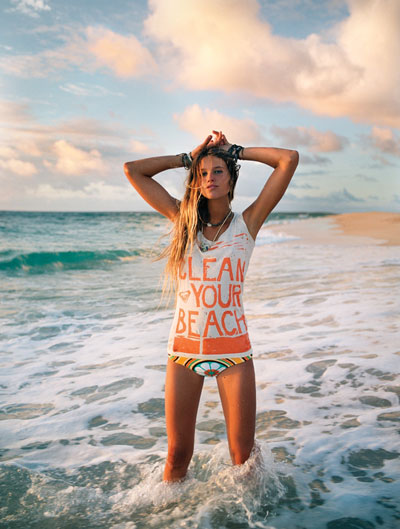 Long holiday weekends were just made for the beach and Labor Day weekend is the ideal time for it. One of the last hot weekends of summer, spending Labor Day weekend at the shore is a great way to use summer up to the last drop.
We all love going, but the extra traffic during the holiday weekend can really take a toll on our beautiful beaches.
Roxy, along with Linda Benson, Surfrider Foundation, and the San Elijo Lagoon Conservancy are going to throw a beach clean up Tuesday morning, Sept. 2nd, at Cardiff Reef in San Diego. If you live in the area and are going to be around you should come by!
Add the beach clean up on facebook.
WHAT:
Beach Clean-up with Roxy, Linda Benson, the Surfrider Foundation, and the San Elijo Lagoon Conservancy

WHEN:
Tuesday, September 2, 2008
Starts at 8:00am (meet at Roxy tent)

WHERE:
Cardiff Reef/San Elijo State Beach
Located on Pacific Coast Hwy in Cardiff-by-the-Sea, CA

WHY:
Help us rid the beach of trash and debris after the holiday weekend and have fun!

Activities include:
- Free t-shirts to the first 50 volunteers
- $100 gift card prizes to the Roxy store in La Jolla
- Roxy pro athletes autograph signing with Kassia Meador, Jen Smith, and Julie Cox
- SUP demo with Surftech (boards will be available to test)
- Chance to buy a $10 ticket for the Roxy Jam Cardiff board shapers raffle to win a longboard by world renowned shapers:

Donald Takayama 9'0" noserider
Robert August 7'6" roundtail
Dewey Weber 9'4" performer
Jed Noll 9'2" emerald model
Hansen's Craig Hollingsworth 8'6" 50/50
Surfboardshapers.com/Headline Graphics 9'0"
Surf Ride 10' SUP

*Buy a $10 raffle ticket at the San Elijo Lagoon Conservancy tent at the Roxy Jam Cardiff (Sept 19-21), OR in advance at the San Elijo Lagoon Conservancy office. Drawing will take place on Sunday, September 21st after the Roxy Jam Cardiff awards ceremony. You do not need to be present to win (winners will be notified). Visit www.sanelijo.org and roxy.com/roxyjam for details.


View Larger Map