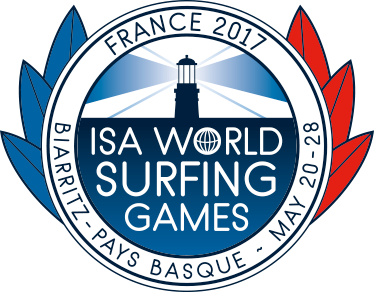 ISA World Surfing Games Biarritz 2017
From the 20th-28th of May almost 200 surfers from more than 40 nations will descend on the Grande Plage Biarritz, France for the ISA's 2017 World Surfing Games. Each team will consist of six athletes: 4 men and two women. The Women's Individual Competition will be held from Saturday, May 20th to Monday, May 22nd. The Men's Individual Competition and Relay Competition will be held from Wednesday, May 24th to Sunday, May 28th. Teams will be vying for the chance to claim gold, silver, bronze and copper medals, plus some serious national pride in the lead up to the Olympic games in Tokyo 2020.

About the ISA World Surfing Games
Quiksilver and ROXY are proud to sponsor the Official Surfing Championships, which not only celebrates the 30th edition of the event but the third time in history the games have been held in France after 1980 (Biarritz) and 1992 (Lacanau). 2017 will also mark the 60th anniversary of the birth of surfing on French shores.

The event will see 3x World Champ and former ISA World Surfing Games champion, Tom Curren, play host as the honorary patron for the games.

The action will see six surfers, consisting 4 men and two women, paddling out at La Grande Plage, Biarritz, for a chance to claim top honors in these four titles: Men's Individual, Women's Individual, National World Champion and Relay World Champion. Fans and spectators can join in the celebrations from May 20th with an opening ceremony and parade of nations. Women's Individual heats end on the 22nd with the finals and an award ceremony, while the rest of the divisions wrap up on May 28th with crownings and a closing ceremony.