How To Choose a Backpack for Women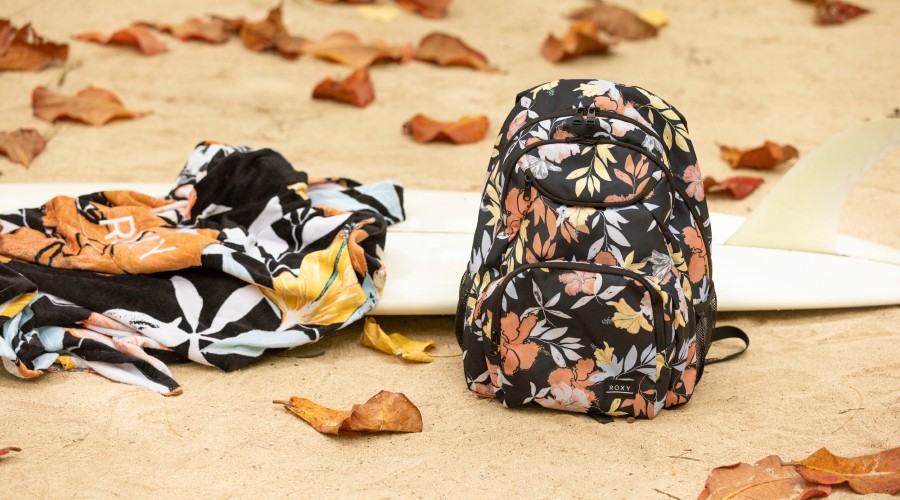 Choosing a women's backpack depends on the activity, what you need to carry, and the best storage options. From how to increase comfort and recognize signs of quality, this guide will help you find one that's perfect for you.
What Size Backpack Should I Get?
Backpack sizes vary from small (up to 10L), to medium (11-49L), to large (50L+).The right size depends on what you need to pack.
Style
Size (Liters)
Activity
Mini
5-15L
Wear to complement outfits.
Drawstring
10-35L
Going to the gym or for short outings.
Everyday
15-40L
Perfect for day-to-day casual wear.
Beach Backpack
10-80L
Ideal for the beach, lake or pool.

Cabin/Carry-On

Backpacking

20-50L

60-150L

Ideal for short trips, or as additional luggage on longer trips.
Traveling for long periods or camping.
Hydration Packs

3-10L

10-25L

Walks, shorter hikes, jogging, biking, festivals, gymming.
Hikes, all-day cycling, multi-day adventuring.
Cycling
5-40L
Ideal for cycling, commuting or touring.
Hiking
30-39L
40-85L
Perfect for shorter hikes.
Longer hikes, trekking, and camping.
Mountaineering
8-90L
Specialized for climbing and mountaineering.
Snowsports
Up to 60L
Snowboarding and Skiing.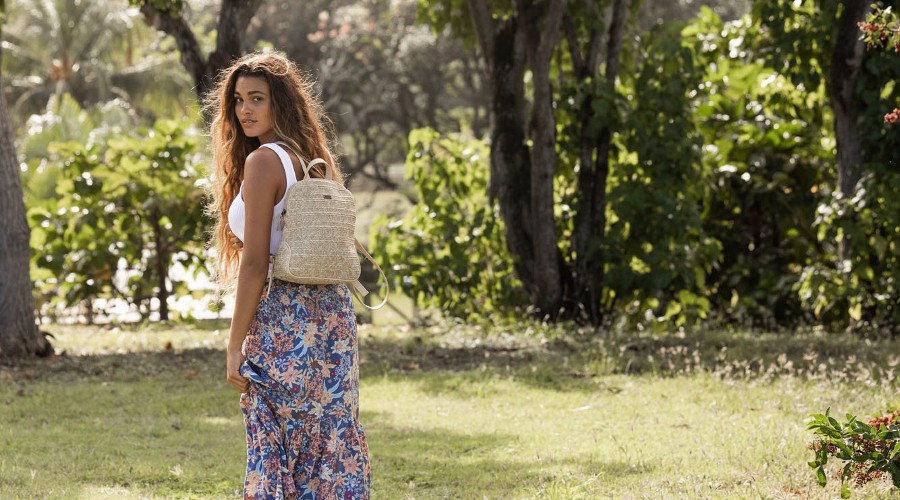 Backpack Styles
Some backpacks have special features that make them useful for specific activities. Others are more generic and can be adapted for a range of situations. Here are the most popular styles.
A mini backpack is a cute and comfortable alternative to a handbag, functioning mainly to complement outfits and carry the bare essentials.
Drawstring backpacks are simple packs that close at the top with a drawstring and have basic rope shoulder straps.
Everyday backpacks are the most common type, consisting of a main compartment and 2 shoulder straps. They often have front, side, and/or internal pockets. Most school backpacks fall into this category.
Beach backpacks are usually oversized totes with maximized capacity and might include features like an insulated compartment for beverages, a bungee cord for a beach towel, or straps for yoga or beach mats. If you're surfing, surf backpacks double up as great beach backpacks.
Surf backpacks and dry bags are usually made from strong PVC tarpaulin and are fully waterproof, containing separate compartments for your wetsuit and dry belongings. They also double up for other water sports like SUP.
Travel backpacks are optimized for traveling and provide an organized, hands-free luggage option. Carry-on or cabin size backpacks are designed to fit in overhead lockers on planes while allowing you to maximize on packing space. Wheeled backpacks give you the choice of wearing or rolling your pack.
Sports backpacks are optimized for activewear and utility. They're made of durable fabric and should have padded and ventilated shoulder straps and back panel.
Hydration packs are fitted with a water bladder and drinking hose – so you can rehydrate without carrying a water bottle.
Cycling backpacks are designed to stay in place as you ride and are optimized for urban commuting or sports riding. Good biking backpacks are water resistant and keep your belongings dry in wet weather. Some contain a hydration pack and hose.
Hiking backpacks are large with a lot of compartments, straps and attachment points for different gear. They are made to carry weight over long distances.
Mountaineering and climbing backpacks are similar but with fewer to no external pockets, and a minimal back surface to prevent snags on rocks. They are made with lightweight materials and are often waterproof.
Backpacking packs vary from everyday backpack size to up to 150L, with 60L+ considered 'large'. They include additional features such as sternum straps, compression straps as well as multiple compartments and pockets.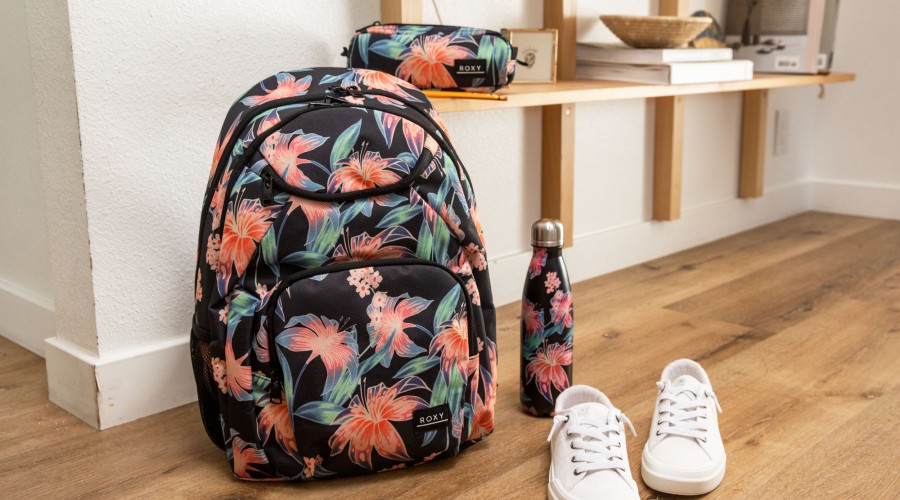 Backpack Key Features
Carry Capacity
Smaller backpacks like hydration packs and mini backpacks can only carry essentials. Mini backpacks can hold a water bottle, compact umbrella, and smaller items like a make-up bag.
Average-size backpacks – about 15L to 40L capacity – can carry a variety of items, like snacks or a packed lunch, books, a hat and water bottle, along with the things you'd normally keep in a small purse.
Larger packs range from 50L to 150L in backpack volume and can carry a variety of luggage and gear – including clothing, shoes, sleeping bag, and sports gear.
Reinforced Straps
Reinforced straps work to reduce muscle strain. Thick, padded, and wide straps keep the weight evenly distributed across your shoulders and back. Sternum straps buckle over the chest – above the bust – stabilizing the pack and reducing how heavy it feels. Large packs come with hip belts which shift most of the load to your hips allowing you to carry a lot more.
Multiple Pockets
Pockets on backpacks can be internal or external and a backpack with lots of pockets is perfect for keeping your contents organized. A multi-pocket backpack may include front pockets, side pockets, stretchy mesh pockets – for things like a water bottle or umbrella – or internal pockets that can hold cards, lip balm or keys.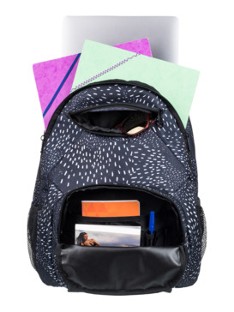 Zippers
Zip closures are a reliable way to keep your belongings secure. A backpack with a lot of zippers may have a lot of pockets for organization and convenience, or so you can access the same compartment from different angles. Hidden zippers are used to keep compartments discrete and discourage theft, as well as streamline the design. Some zippers have a water-resistant coating to stop rainwater from seeping through.
Quality Stitching
Quality backpacks have about 6-10 stitches per inch and will ensure that your pack is durable. Stitching should be strong enough to carry the contents of your backpage with ease.
Waterproof Fabric
Backpacks that are water-resistant or waterproof are ideal for travel, adventure sports, watersports, and going to the beach. Water-resistant bags repel light rain, whereas a waterproof backpack keeps all moisture from getting in.
Waterproof bags might have a coated zipper or a roll-top closure to keep out water. Some bags have different compartments meant to keep wet and dry items separate. Surf backpacks and dry packs for other watersports even come with compartments specifically for wetsuits, water shoes and towels.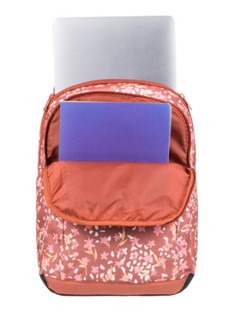 Sleeves & Built-In Organizers
Different backpacks sport a range of sleeves and organizers. Most come with a laptop sleeve, which can be fabric, mesh, or padded – ideal for work or back-to-school backpacks. Fully padded sleeves provide the best protection for your device. Some have built-in organizers using zips and fabric to create different compartments and various pockets. A lot of packs have smaller pouches to store sunglasses, surf wax, keys and other smaller belongings.
Water Bottle Holder
It's important to stay hydrated while doing any outdoor or high-intensity activity. Always make sure your backpack has a dedicated holder or space for a water bottle. Some packs also feature integrated hydration systems.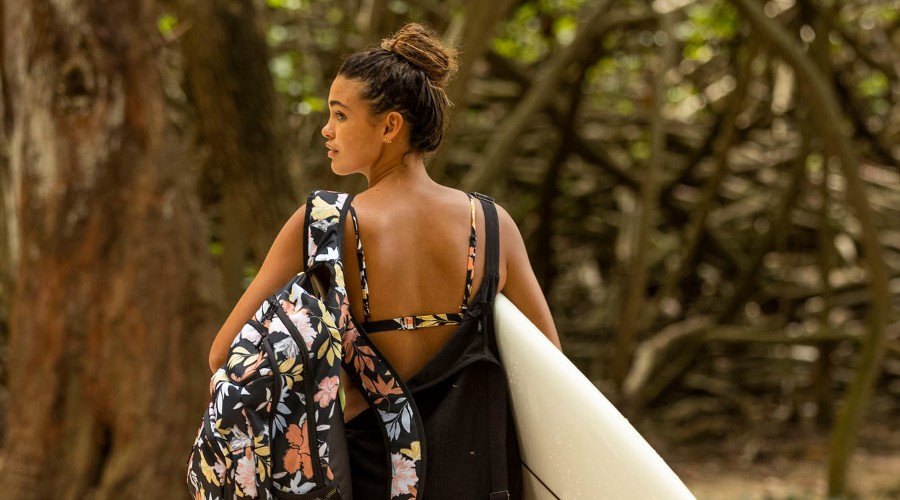 How Do You Know If a Backpack is Good Quality?
Comfort
A comfortable backpack means your back is properly supported and that weight is evenly distributed. Backpacks designed for women will better support curvier, shorter torsos, wider chests, and narrower shoulders when compared to a unisex one.
Quality & Durability
Signs your pack will live a long life include a strong handle loop, a reinforced bottom, padded shoulder straps and back panel, quality stitching, waterproof/snowproof material (if applicable), and coated zippers.
Anti Theft Features
Hidden zippers, cut-proof fabric, and compression straps over zippers are great security additions, especially when traveling.
The key to choosing backpacks for women comes down to comfort, quality and size. Explore features suited to your activity and get ready for your next adventure.
Related Guides
Beach Dresses & Cover-Ups Guide
How To Style Regular Fit Jeans
How To Style Relaxed Fit Jeans