How To Style Women's Graphic Tees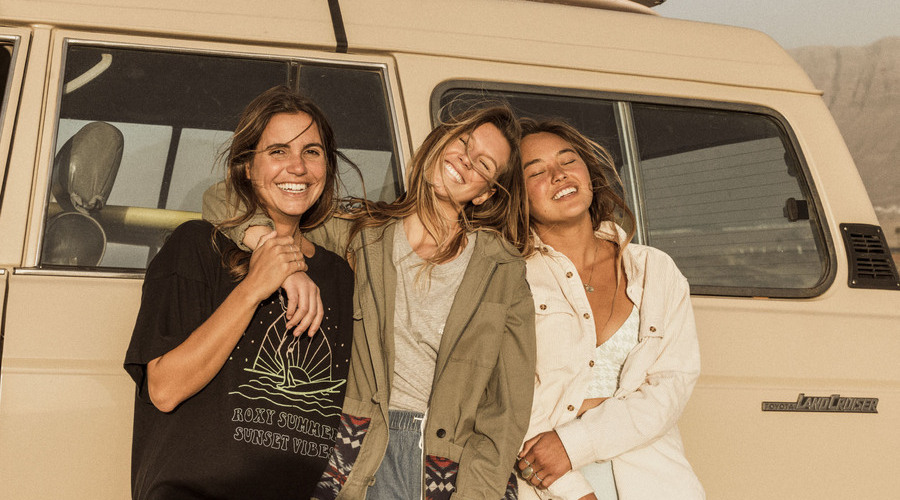 Graphic t-shirts have made a strong comeback in recent years as a fun way to showcase your favorite brands, music, artwork or aesthetic.
In this guide, we'll walk you through creating graphic tee outfits that compliment your personality and show off your sense of style.
What Is a Graphic Tee?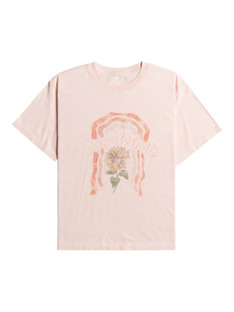 A graphic tee is any t-shirt with a logo, image, or other design element printed on the front of the shirt. Graphics on the back, sides and arms are also common. Popular graphic tshirt styles include merch tees, slogan t-shirts and logo tees.
Types of Graphic T-Shirts
Regular graphic tee – A pullover top with quarter-length sleeves.
Long-sleeve t-shirt – A regular t-shirt cut with long sleeves.
Oversized/Boyfriend tee – For the borrowed-from-your-boyfriend look, a t-shirt worn loose and oversized.
Cropped t-shirt – A t-shirt hemmed around the natural waistline, above the belly button.
Baby tee – A tight, fitted tee that comes up to the smallest part of the waist.
Graphic polo – A tee with a shirt collar, typically with a small or understated graphic on the breast or with an all-over graphic print.
Sleeveless – A regular t-shirt cut with no sleeves.
Wearing Graphic T-Shirts as Cover-Ups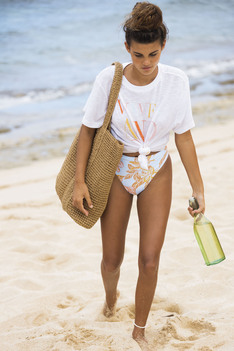 Graphic tees are ideal beach cover-ups because they are usually made from breathable cotton and provide coverage for the shoulders and back.
An oversized graphic t-shirt makes a cute and playful beach dress – a simple, complete outfit that you can wear to and from the beach and to casual post-swim activities. A baggy sleeveless graphic t-shirt produces a similar, even more laid-back look.
You can also cover up with a crop graphic tee, or tie a regular t-shirt into a crop (see "How To Tie a Graphic Tee Into a Crop Top" section below).
Oversized Graphic Tee Dress Styling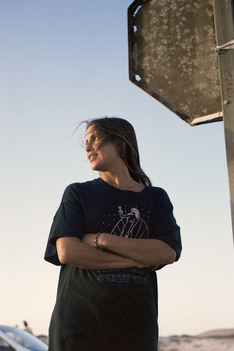 Rock a casual look with a graphic t-shirt as a dress.
Pair with chunky sandals or slides for a versatile warm-weather look, and don't be afraid to wear statement socks. Top it off with a bucket hat.
For a twist, try wearing a long-sleeve tee underneath, skater sneakers and an oversized backpack.
If you want to elevate a graphic tshirt dress for going out, pair it with strappy sandals or heeled boots and a baguette purse.
For an everyday look, wear a graphic tee with ankle boots and a fedora, or lean into Americana with a leather belt and cowboy boots.
Styling Cropped Graphic T-Shirts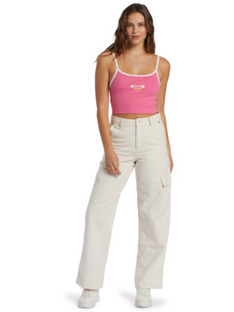 Contrast the relaxed vibe of a boxy graphic crop top with biker shorts, skinny jeans or sporty leggings.
Form-fitting graphic baby tees harmonize well with roomier styles of jeans like mom, wide-leg, regular or boyfriend jeans. Try your graphic baby tee with mid-rise jeans for a retro feel.
You can wear any type of cropped graphic t-shirt with comfy-cool pieces like joggers, runner shorts or cargo pants.
How To Tie a Graphic Tee Into a Crop Top
There are a couple of ways you can tie a graphic tshirt into a crop top to create new outfits and silhouettes – you can even wear your graphic tee over a dress.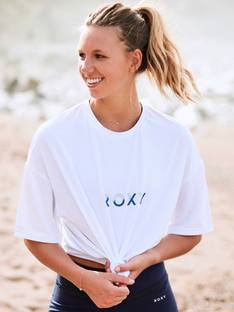 Knot-Tie Method
Gather fabric in the front of your top until your shirt rises up a little or starts bunching at the back
Twist and spiral the fabric around itself to form a ball, looping and pulling the end piece through the middle of the ball into a knot.
Wrap the end piece around the ball to smooth it out.
You can tuck the knot-tie under the shirt or leave it out.
Feel free to mix up the placement of the knot-tie by centering it on the front or back or to either side.
Elastic or Hair Band Method
Complete step 1 above and wrap the band around the fabric
Either twist into a ball, or tighten and tuck under the t-shirt
Sports Bra Method
Tuck the hem of the t-shirt up and under a sports bra or bandeau
Pairing Bottoms and Graphic T-Shirts
Graphic Tee and Shorts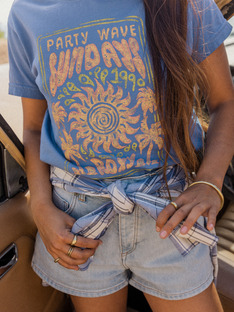 Tuck a college or city slogan t-shirt into denim shorts and pair with tube socks and white sneakers.
Try an edgier aesthetic, pair baggy graphic tees with biker shorts. This combo calls for statement sneakers or sandals.
Sport running shorts and basketball shorts with minimal logo tees on warmer days.
Graphic Tee With Skirt
The more elevated tone of a skirt often complements the casual vibe of graphic tees.
A pleated midi skirt with a graphic tee is an easy go-to. Wearing a long sleeve graphic t-shirt tied into a crop with a printed midi skirt is another great pairing.
Tennis skirts naturally invite branded logo tees or art print t-shirts, either tucked in or worn loose over the skirt. Wearing a slogan t-shirt with a denim miniskirt makes a simple statement when paired with an oversized jean jacket. A plaid skirt of any fit or length with a band t-shirt creates a classic yet edgy look.
Graphic Tee and Jeans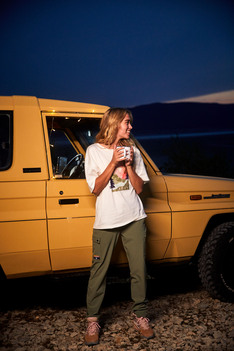 A t-shirt with jeans is the easiest, most reliable combo in any wardrobe, and there are plenty of t-shirt and jeans outfit ideas.
Baggy wide-leg or carpenter jeans with a graphic baby tee or tied-up t-shirt produce an understated y2k moment. Skinny jeans complement boxy cropped or tied-up graphic t-shirts – giving casual and comfy yet contoured.
For varying aesthetics, try a band photo tee with heavily distressed jeans, or a retro graphic t-shirt with flared jeans.
Fall Layering
Cooler weather offers an ideal styling opportunity for layering graphic tees. You can wear pretty much any type of jacket whether it's leather, denim or a bomber.
Graphic Tee With Blazer
The ultimate off-duty staple outfit pairs a graphic t-shirt with a blazer – even better if it's oversized and worn with joggers or a skirt. Go for a more everyday look by wearing this combo with jeans.
You can also match a fun-colored tailored 2-piece with a graphic tee and white sneakers for a smart-casual statement.
Graphic Tee With Long Sleeve Underneath
Wearing a long-sleeve top underneath a graphic t-shirt is a modern look with a retro vibe. Wear a top underneath in a different color to your graphic tee, or take the look further with a t-shirt that has a graphic strip or design on the arms.
Update your outfit by wearing a graphic tee with a turtleneck underneath. The high neck elevates the pieces, allowing them to work with elements like plaid skirts and tapered pants. You can also try a mesh top underneath with an all-over design that gives a textural contrast.
All of these style ideas work with cropped options as well.
Whatever style of graphic tshirt you're into, there are many on-trend, fun, and chic ways to style them. Embrace elements that contrast the overall look of your graphic t-shirt and explore new ideas to find a style that's all your own.
Related Guides
Beach Dresses & Cover-Ups Guide
How To Style Regular Fit Jeans
How To Style Relaxed Fit Jeans