The Ultimate Flare Fit Jeans Styling Guide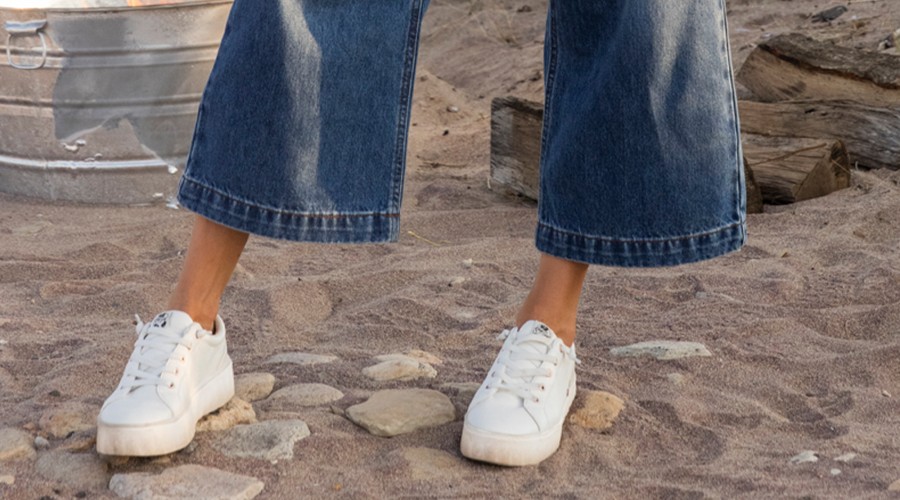 The Ultimate Flare Fit Jeans Styling Guide
Originally sailors' uniforms, then embraced by the flower-power generation, the flare fit is experiencing a major resurgence today. People love flares for the unique silhouette they create. The length, rise, and flare size – exaggerated or subtle – all vary to suit different looks, along with whether they sit baggy, relaxed, fitted or skinny on the legs. The choices are abundant and diverse. This guide will help you find the pair perfect for you.
What are Flare Fit Jeans?
The defining feature of flare jeans is the way they fan out in the leg. The leg opening is always wider than the knee. The flare can start at the hips or anywhere lower down near the ankles.
What are the Different Flare Cuts?
Flare fit is the general term for the cut.
Bell bottoms refer to the wider, more exaggerated bell shape in the bottom half of the leg. This style rose to popularity in the '60s & '70s. Big bold knee-flare bell-bottoms support a pronounced hourglass shape.
Bootcut describes jeans designed to be worn with boots underneath, fanning out at the ankle or further up the shin. The fit is streamlined with an understated leg opening of 17-20 inches.
Kick flares are a cropped culotte style, sitting like regular pants to the knee where they flare to the shin.
Wide-leg flares refer to when the flare begins at the hip.
Elephant flares sit high on the waist, flaring from the hips and fanning out extravagantly all the way down.
Flares that Flatter Your Body Shape
Flares suit every body – here's how to choose flare fit jeans that highlight and minimize different physical aspects whatever your body type.
An overstated bell-bottom can balance your silhouette and emphasize that hourglass shape, particularly if you have wide hips or an ample torso.
If your body type is more straight and slender this style will contour your body shape as well. Bell-bottoms can also balance broad shoulders.
Long, high-waisted flare jeans will elongate the legs – great if you are short in stature, and a statement if you're statuesque.
Slimmer cuts and narrow flares like bootcuts can be used to highlight and elongate legs if your body shape is very linear.
How Should Flare Jeans Fit?
The fit depends on the style. Skinny flares should be skin-tight on the waist and hip, in the seat, and down the leg to the knee. Relaxed or fitted flare jeans should sit like regular pants at the waist and rear, and be either fitted or looser through the thigh. Baggy knee flares should feel loose down the entire leg but still maintain a shape where they taper inwards, without hugging the leg. Wide-leg flares sit snug at the waist.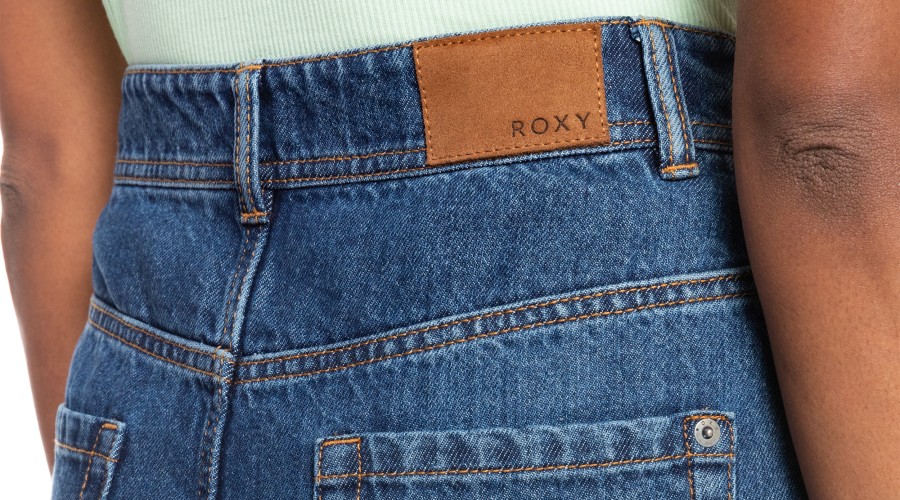 Low, Mid, or High Rise?
High rise – popular as high waisted jeans accentuate the waistline and hourglass figure, providing and emphasizing curves. With a full-length leg – just covering the shoes – high rise flare jeans help legs to appear longer.
Low rise – sit snug on the hips, with at least 3 inches between the waistline and navel. If you're looking for a vintage aesthetic, low rise flare jeans are quintessential Y2k.
Mid rise – mid-rise flare jeans sit just under the belly button but higher on the waist giving the best of both worlds!
What Body Features do Flare Fit Jeans Highlight?
Full-length high rise flare fit jeans elongate legs, especially when paired with high heels or platforms.
Skinny flares that taper to the knee and fan out highlight curves. Large bell-bottoms can balance the silhouette of those with wider torsos or hips.
Baggy knee or ankle flares make the wearer appear slimmer as the jeans maintain a shape but with a slack fit, shrinking the figure.
Wide flares emphasize the lower half of the body, minimizing the torso – especially when paired with crop tops, or tight blouses tucked in.
Kick flares and cropped styles let you highlight ankles and cute shoes.
How To Style Flare Jeans?
Ultimately flare jeans can be worn with almost anything, which is why we love them!
Hippy Chic
A bell-sleeve top or sweater makes a bold statement while remaining casual, harmonizing with the volume of the pant legs. An asymmetric top can bring an artsy contrast to the symmetrical shape of the jeans.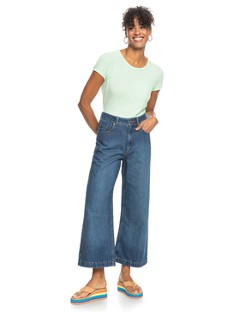 Casual
For a casual look, wear your flare fit jeans with a loosely tucked-in shirt. Try a body and a long cardigan or kimono for a fresh silhouette. Flatter your figure with a long loose blouse and high-waisted belt.
Smart-Casual
Bootcuts are great for executing smart-casual looks. Wear with a shirt, blouse, or even a t-shirt and blazer.
Smart
Flares with a crease or pleat down the front accentuate the smarter look. A shirt under a knitter jumper goes with more exaggerated flares while maintaining smartness.
Americana
Full-length flares and bootcuts paired with leather or suede – real or vegan –is quintessential Americana-casual. A biker or fringe jacket over a t-shirt completes this effortless casual look.
E-Girl Prep
Wear an argyle or checkered sweater vest for a modern preppy quality, or a vaporwave print top or sweater to complete the e-girl aesthetic.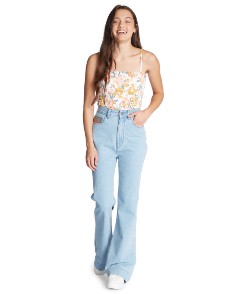 Statement Look
A deep v-neck blouse or body with skinny flare jeans is a statement look you can wear in a casual way. As wide-leg flares minimize the torso they work well with crop tops, bandeaus and bralettes.
'90s Y2K
Retro is all about lowrider jeans. Wear slim black bootcuts with a full blouse for a sleek look, or baggier hip-huggers with a cropped polo t-shirt or print cami and sneakers to finish.
Skater
Wider flares with a sweatshirt or baggy t-shirt can tip the aesthetic to skater – the look can be enhanced with distressed details and graffiti.
Vintage Vibes
A broad-brimmed hat and round sunglasses bring the 70s aesthetic to life especially with a thick belt and statement buckle. Crochet tops suit this look, as well as vibrant prints and bright colors.
What Shoes to Wear with Flare Jeans
Bootcuts are a no-brainer as they were designed to be worn with boots and more.
A relaxed bootcut blue jean with cowboy boots were popular in the wild west, and it remains a timeless look today.
A slim leg bootcut with pointed or smart boots creates a sleek, contoured look – especially in black.
Pairing bootcuts with mules or open-toed stilettos enhances the vintage look. Wider flares should never be paired with thin heels as this can lead to entanglement and tripping!
Cropped and kick flares highlight shoes and socks.
Accent outfits by matching socks to top or jacket, and pair with low-top sneakers.
Let your high-top sneakers steal the focus – kick flares look awesome with high tops.
Work the cropped style with pointed or square-toe heeled ankle boots, or with chunkier lace-up boots.
Mules and sliders always work well in good weather.
Bell-bottoms that are cropped to just above the ankle can show off sneakers – think Farrah Fawcett in her iconic red white and blue sneakers. Choose a color-block or contrasting color sneaker, or show off an ankle boot.
Cropped flares and a strappy high heel is a timeless look – pairing with chunky court shoes or mary janes gives it an inventive modern spin.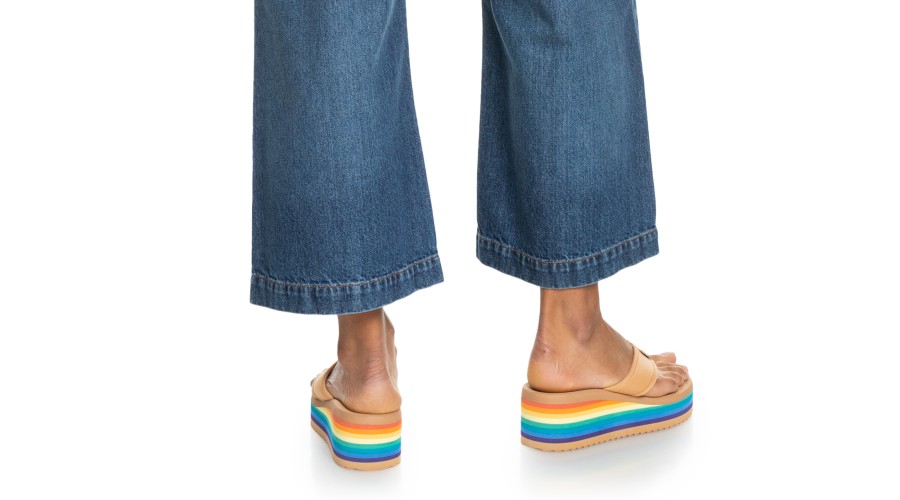 Knee flares and bell bottoms
Full length bell-bottoms tend to hide shoes, but longer lengths give you the opportunity to look taller when you style with platforms – this look originates in the '60s, but given the normalization of platform shoes, a pairing like this feels current and fresh with nods to fashion history.
Bell bottoms look great with chunky heels – or clogs for a retro-boho quality.
Sneakers are increasingly worn with flares, often looking best when the back is covered and the flare drapes, showing the front of the shoe. This look works well with baggy knee flares, as well as skinnier cuts.
You can wear almost any boots with bell bottoms.
Wide-leg and elephant flares go with most types of shoes
Choose boots of any length – with a platform for added height.
Wedges and clogs for an authentic '70s feel.
Wear with sneakers for a more casual vibe.
Accent any outfit with a pointed-toe flat, heel, or boot.
Women's flare jeans can be styled in a variety of ways and make for a great closet staple. Create your own look by incorporating some of the ideas above!
Related Articles
Relaxed Fit Jeans Styling Guide
Regular Fit Jeans Styling Guide