The Ultimate Guide to Mom Fit Jeans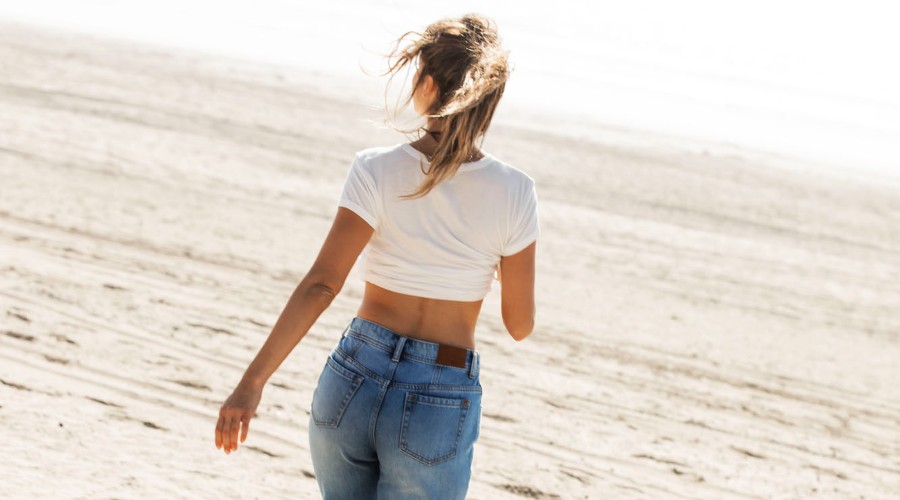 Mom fits have fast become wardrobe staples for all types of women — moms and beyond. We love them for their comfort and flattering shape that slims the waist, elongates the legs and highlights hip contours — and for their roomy fit and styling versatility. In this guide we take you through all aspects of what makes the mom fit so popular and what to wear to make the most out of your pairs.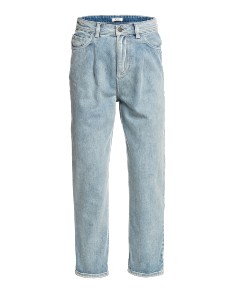 What are Mom Fit Jeans?
This style of jeans rose to popularity in the '70s and '80s with women who had just given birth because of their unique cut – hence the name. They sit high on the waist with extra room in the crotch and hips. The rigid denim tapers through the leg to give a flattering silhouette – this provides structure and shape whether worn fitted or more relaxed.
What is the Difference Between Mom and Boyfriend Jeans?
There are certain defining aspects that separate mom fit from boyfriend. Mom jeans are a high waisted tapered style with generous hips. Boyfriend fit describes a cut normally intended for men, but made for women. This entails longer leg cuts, lower rises and a straighter fit than mom jeans.
| | | |
| --- | --- | --- |
| | Mom Fit | Boyfriend Fit |
| Overall Fit | Structured, tapered fit — often with rolled hems. | Longer cut legs and a slouchy, more relaxed fit. |
| Waist | Sits higher on the waist — high-waisted is the most common rise option. | Sits lower on the waist — low and mid are the most common rise options. |
| Through the thigh | Cut wide at the hips. Loose fitting. | Cut straight at the hips. Loose fitting. |
| Thigh through the leg | Tapered, structured and fairly loose. Smaller leg opening of around 12 inches, sitting just above the ankle. | Cut straight, or with a slight taper. Relaxed through the legs, with a regular leg opening. |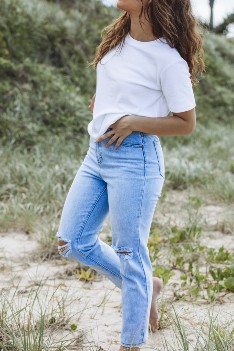 How Should Mom Jeans Fit?
At the waist, mom jeans should fit snugly with a little room so that they stay comfortable when you sit down. They should feel roomy at the crotch and hips, and taper to the ankle. From the thigh they may fit close to the skin and snug, or have a baggier but still graduated fit.
Who Suits Mom Fit Jeans?
Mom fit jeans aren't only for mom anymore. The cut and shape provides and enhances the hourglass figure — mom jeans draw attention to the smallest part of your waist while highlighting curves in the hips. This will compliment your figure whether or not you're naturally curvy!
The full coverage and extra space in the seat, crotch and hips leaves plenty of room for comfort — great if you have a generous waistline, ample glutes or thicker hips. If you have broader shoulders mom fits balance your figure shaping out your bottom half.
You'll find them a popular option in both petite and tall ranges as they suit people of all heights.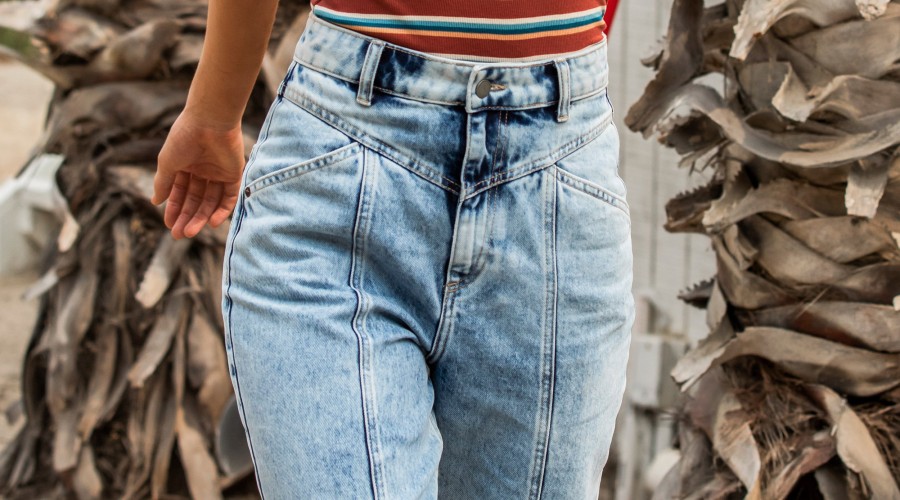 What are the Rise Options on Mom Fit Jeans?
The original cut is a figure-flattering high-rise style. The long roomy crotch makes this fit unsuitable for low-rise wear. Mom jeans can be sized up to fit mid-rise.
What Features Do Mom Fit Jeans Highlight and Minimize?
Hips — the cut and shape adds definition to straight hips, and highlights contours on curvier thighs.
Waistline — the high rise and structured shape draw attention to the slimmest part of your waist.
Legs — legs are elongated in this high-waisted style.
Tummy — Minimized and concealed in regular mom jeans. If your mom jeans fit looser on the waist — like if you size up — they can make your tummy appear flatter.
Butt — Minimized in favor of showing off other assets.
Ankles — hems are often rolled up — show off some skin or cute socks.
How To Style Mom Jeans
Casual
Blue mom jeans with a white tee and skate shoes or white high tops is a look that worked as well in '80s as it does now — you can pull this off in all black too. A body and cardigan are timeless choices. Roll-necks are great wintertime options. V-necks, print camis, sleeveless shirts, and denim jackets pair with ease.
Smart-casual
A blazer and high-heeled pumps is always a winning combination for dressing up mom jeans. Try out color-pop or plaid blazers. Wear statement jewelry — rings and earrings — with an elegant blouse for a polished dressed-up look. For cold weather cover up with a long wool or faux fur coat and dressy heeled ankle boots.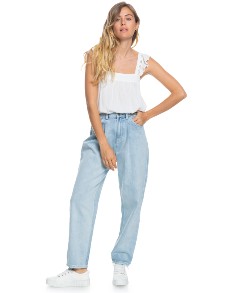 Romantic
Mom fit jeans can be worn in many ultra-feminine ways. Tuck in your favorite blouse — statement shoulders balance the wider hips — think puff sleeves, peasant sleeves, tiers and shoulder detailing. Milkmaid tops, peplum blouses, bralettes, and wrap tops provide an effortlessly girly stroke. Fitted or tight off-shoulder tops enhance the hourglass shape.
Retro
Style mom fits with a thick leather belt — real or vegan — and a loosely tucked in shirt. Choose a slightly oversized button-up in plain white, a cool pattern or an animal print for a retro vibe. Add a grunge element with a distressed pair and a band t-shirt — accessorize with a belt chain. Or, go for full acid wash with a matching jacket and trucker hat.
Y2K
Today mom jeans are available in slouchier cuts. A relaxed or oversized pair are perfect for accentuating a Y2K look especially if they have rips, graffiti detail, or patchwork. Pair with an asymmetric body, or a topstitch detail crop top. Alternatively, wear baggy mom fits with a mesh long sleeve-tee under a t-shirt for an e-girl vibe. Fishnets, mini cardigans and tiny handbags also work well with this aesthetic.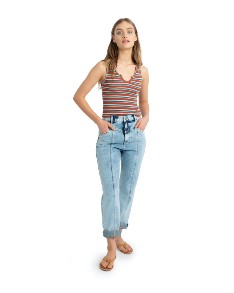 Off Duty
A mix of casual and understated, the 'model-off-duty' look is a decidedly grown-up look focussed on simplicity and effortless style. Pair mom fit jeans with neutral colors, classic sneakers, a muted crop top, a red lip, and a trending handbag. Wear white or black mom jeans and play with monochromatic outfits. Leather jackets and blazers are off-duty staples.
Shoes That Pair With Mom Jeans
Classic Mom Fit Jeans
Sneakers are the universally popular footwear choice! White low-tops and moms are timeless. The cropped look of the jeans lets you play around with high-tops as well.
The cropped or rolled-up hem lets you show off ankle boots — from heavy combats to pointed patent party heels.
Dress up mom fits with high-heels, strappy sandals or square-toe mules — try a color-pop suede or patent pump with a stonewash pair.
Wear pastel and bright color mom fits with mary-janes.
The more tailored shape moms have make them a good match with classic footwear styles such as brogues, loafers and oxfords.
Relaxed and Baggy Mom Jeans
Chunky sneakers are the ultimate pairing for this style.
Platform shoes in general look great with slouchy mom jeans
In warmer weather, sliders provide a fresh twist.
Overall, mom fit jeans are a wardrobe staple everyone should have in their denim collection. A single pair can be worn in a whole host of styles, and they combine the best of both tailored structure and relaxed comfort.
Related Articles
Relaxed Fit Jeans Styling Guide
Regular Fit Jeans Styling Guide
Skinny Fit Jeans Styling Guide