Regular Fit Jeans Styling Guide for Women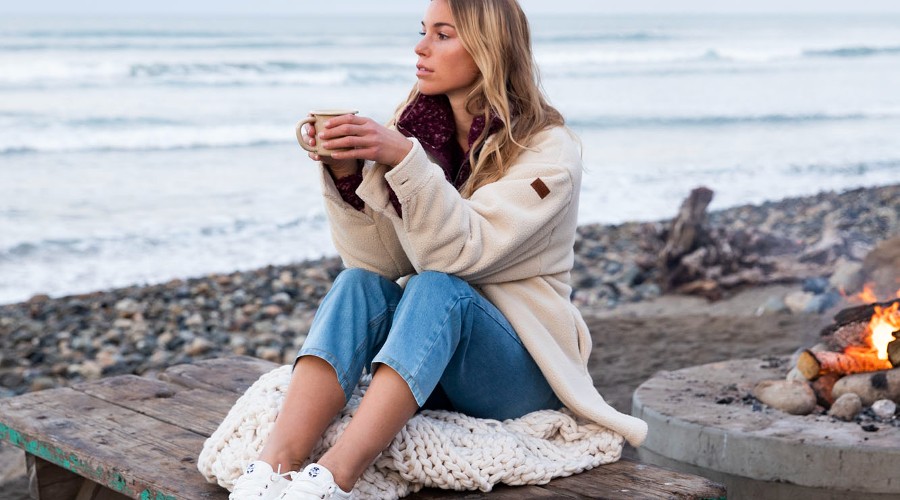 The first pair of jeans ever were a regular fit. But in the era of flares, straight jeans, mom, dad, slim fit, and skinny, what does 'regular' actually mean?
In terms of pants, the regular fit is designed to mimic and highlight the natural shape of the human body. Regular jeans often look straighter than straight jeans, and are great for enhancing certain features and understating others. In this guide, we share all you need to know about shopping for and styling the iconic regular fit jeans.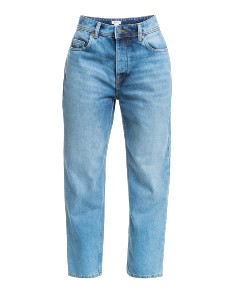 What are Regular Fit Jeans?
Regular fit jeans are roomy in the seat and at the hips, taper slightly through the thigh, and are cut straight and parallel from thigh to ankle. They are fairly relaxed – but not super baggy –and allow a normal range of movement.
Are Regular Fit Jeans the Same as Straight Fit?
There are subtle differences between regular fit and straight fit jeans. Regular jeans match the natural human body shape, whereas straight fit will look wider below the knees.
| | | |
| --- | --- | --- |
| | Regular Fit | Straight Fit |
| Overall Fit | Roomy in the seat. Loose through the leg – not baggy. | Close fitting at the seat, snug around the thighs. Straight cut all the way down, appearing wider at the calves. |
| Hips Through to Thigh | Looser around the hips and tapers through the thigh. | Straight – neither taper in nor flare out at the hips. Tighter feel on the hips than regular fit. |
| Thigh Through to Ankle | Straight – neither taper in nor flare out at the knee. | Straight – neither taper in nor flare out at the knee. |
| Seat | Roomy. | Close-fitting. |
The extra fabric in regular fit jeans make legs appear straighter and more uniform in size and shape. Conversely, straight jeans accentuate your natural leg shape and contours.
Will I Look Good in Regular Fit Jeans?
Yes! Is the short answer.
The extra room in the seat and through the legs are great for more athletic bodies, or if you want to understate wider hips or thicker calves.
If you have a rounder body shape, or are very petite, go for a high-rise pair that elongates your legs.
If you are slimmer and find yourself drowned out by baggy jeans, try regular fit jeans for the baggy effect in a closer fit.
If you find straight jeans don't fit properly – particularly if the difference between your thighs and waistline is considerable – a snug regular fit pair of jeans can create that straight, streamlined look.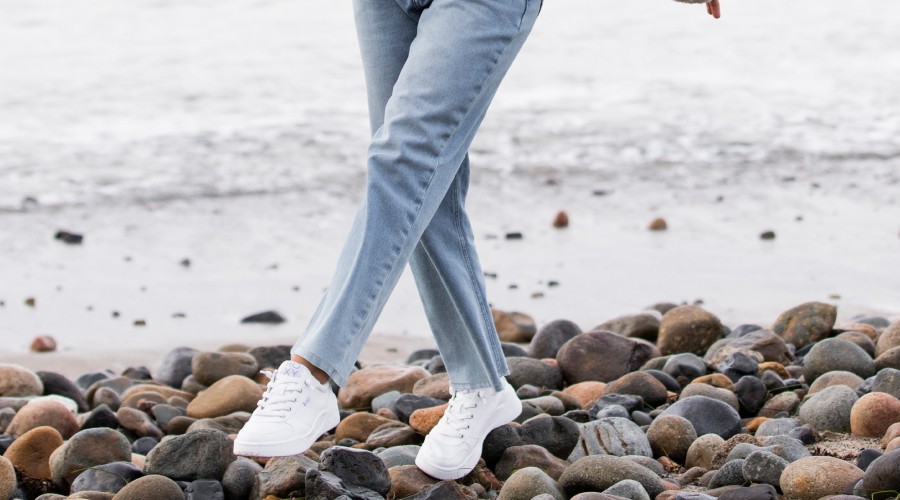 How Should Regular Jeans Fit?
This type of jean should feel roomy in the seat, and not too tight anywhere in the leg – loose but tapered through the thigh, and loose fitting straight down to the ankle. They should give the wearer a natural shape in a relaxed fit.
Low, Mid, or High Rise?
Regular fit jeans should spotlight your natural shape, so they should sit at or just below your natural waist – mid-rise is the standard option. However, if you're looking to elongate your legs, or make your waist appear more narrow, then opt for the more modern high-rise.
What Features do Regular Fit Jeans Highlight?
This cut provides a unifying leg shape that brings balance to figures – especially thicker thighs. The uniform, relaxed style can make your torso appear smaller – by virtue of adding volume to the leg. However, the fit also makes legs appear slimmer as the fabric falls away from the body. Add balance and contrast with form-fitting tops, highlighting your top half. The classic mid-rise can show off some tummy.
How To Style Regular Fit Jeans?
Regular fit jeans are quite relaxed to begin with – here's how to style them into a range of looks from dressed-up to laid-back.
Dressed-up casual

Contrast the relaxed look of regular fit jeans with a smart blazer or long wool coat – finish with high heels or mules for an effortless ensemble. Feminize your casual outfit with a statement blouse – a balloon sleeve, or heavy ruffles will add a softer, romantic element to what you're wearing.

Feminine cute

The relaxed leg lets you focus on the torso – ideal for showing off cute strappy crop tops. Choose high femme detailing – like bardot cut, crochet, embroidery, or corset stitching.

Americana

You can't go wrong with a denim shirt and cowboy boots – accent with a broad-brimmed hat for the total Americana vibe. Or tone it down with a baseball cap and high-tops. A color-matched jean jacket over a t-shirt is another simple statement.

Vintage

For a vintage vibe, loosely tuck in a plain or plaid shirt, roll up your sleeves and the ankles on the jeans, and tie hair back with a bandana. This "Rosie the Riveter" style look is accomplished best with high-rise regular jeans and cherry red lipstick. Mix it up with a sweetheart neckline blouse and pointed pumps at whatever heel height you like best!

Y2K

Baby tees and mini cardis are Y2K staples. Wear a crop cami under a mini-cardi – or be daring and wear a string tie cardi as a top. Layer a slogan baby tee with patchwork oversized knitwear, accessorizing with an iconic baguette bag. Embrace even more nostalgia with a foil jacket, or a fluffy top and matching backpack – in a bright color or a pastel shade, of course.

E-girl

Opt for a heavily distressed pair of regular fit jeans, and a lettuce-hem translucent mesh crop t-shirt to achieve the e-girl aesthetic. Wear with '90s butterfly clips or a beanie. Try color-pop regular fit jeans and a pair of chunky sneakers.

Retro grunge

For that grungy retro look – the one Billie Eilish pulls off so well – pair a long-sleeved tee under a short-sleeved metal or rap t-shirt. Accessorize with a choker and belt-chain. Extra points if you can find plaid patterned regular fit jeans. Size up for a baggier look that sits lower on the waist.

Cottagecore

Love the cottagecore aesthetic but want to make it work with classic blue jeans? Find a regular fit pair with floral embroidery, a little distressing or patchwork - or add some to a pair you already own – the relaxed fit harmonizes with the rustic ideals of cottagecore. Wear with your favorite milkmaid blouse and earth-toned knitwear. Beige jeans blend well with this style too.

Dark Academia

To complete the dark academia look, your regular fit jeans will need to be earth-toned or black. Tweed jackets, argyle knit vests and comfy sweaters are absolute staples. V-neck tops and shirt-tie combos are also go-to pairings for the academia style. Finish with oxfords or brogues, a leather bag – real or vegan – and a wool beret.

Casual

Jeans go with everything, so those are your options! In winter fill out your top half with a thick, fluffy borg sweater or jacket. Balance with combat boots. In summer highlight asymmetry with a slouchy off-shoulder top, or a bandeau top and an open shirt.
Overall, regular fit jeans are a casual fit in the most classic cut there is. They suit a wide range of body shapes and should make the wearer feel comfortable, mobile and free. Dress your regular fit jeans up tailoring and heels, or down with your everyday staples for timeless OOTDs that you can wear anywhere.