Relaxed Fit Jeans Styling Guide for Women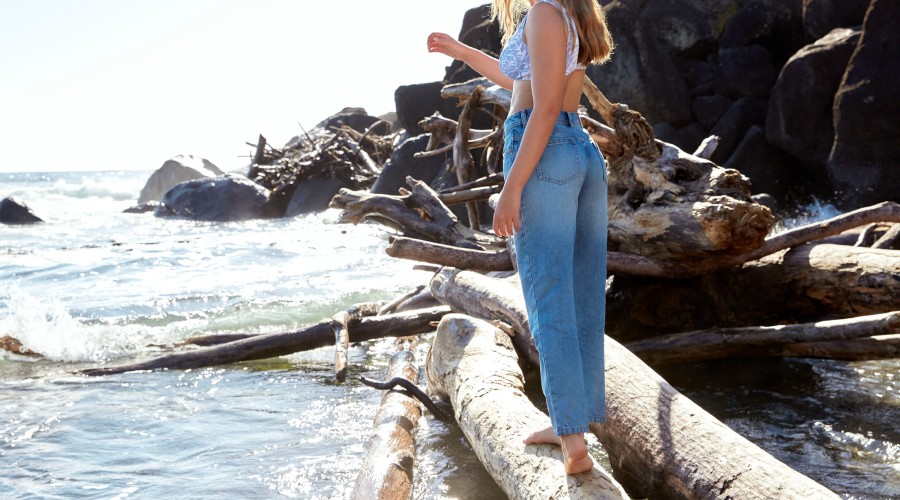 After over a decade of form-fitting skinny jeans reigning supreme, relaxed fit jeans are a much-needed breath of fresh air. Besides being a cool casual throwback style, the fit also allows a greater range of movement than most popular styles – this means they're more comfortable for everyday wear. Relaxed jeans are a laid-back staple that are easier to style than most people realize, and can add variety to your outfits by pairing with pieces you already have in your closet. Read on to see how relaxed fit jeans can suit a range of styles on different body types.
What are Relaxed Fit Jeans?
Relaxed fit jeans are simply jeans with additional room in the seat, crotch and thigh. The shape through the leg can vary from a relaxed-taper, to a straight cut, to a full flare. Relaxed fit jeans like boyfriend and some mom jeans, are looser than regular fits without being baggy.
What Features Do Relaxed Fit Jeans Highlight and Minimize?
Although we love our hips and curves, sometimes we want a more streamlined understated look. Relaxed fit jeans are great at minimizing the butt, hips and thighs, and giving your legs a more uniform appearance – great for mixing up your silhouette if you're a fan of skinny and slim fit jeans.
The longer rise and relaxed fit also contribute to minimizing the stomach. And the higher the rise, the longer the legs appear. Because of the way the fabric falls away from the body, this fit also can make legs appear slimmer.
You can utilize relaxed fit jeans to downplay your bottom half and spotlight your torso.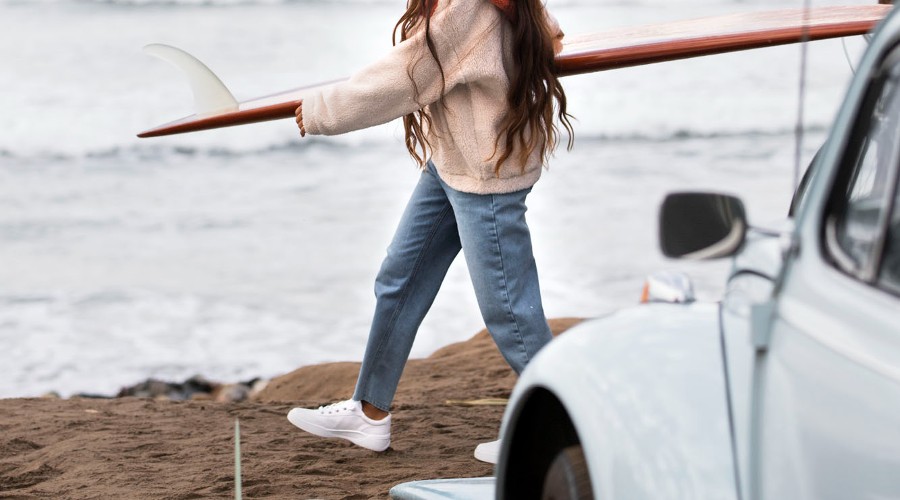 What is the Difference Between Relaxed and Regular Fit Jeans?
It's easy to confuse women's relaxed fit jeans with regular fit – or straight or loose fit – as the differences are subtle yet contribute to distinct styles.
The main difference between relaxed and regular fit jeans is that relaxed fits have added fabric in the seat, crotch and thighs.
Loose fit jeans are cut wide and baggy all the way down – many are cut to be oversized on the wearer – whereas relaxed fit jeans show a more natural, structured leg shape, and don't appear too baggy.
Straight fit jeans are cut straight and sit much more snug than relaxed fits.
| | | | | |
| --- | --- | --- | --- | --- |
| | Relaxed Fit | Regular Fit | Straight Fit | Loose Fit or Baggy |
| Overall Fit | Roomy and relaxed in the seat, crotch, and thighs, with a longer-than-average rise. The cut through the leg varies. | Roomy in the seat and leg. Loose in the hips and tapers through the thighs, then cuts straight to the ankle. | Close fitting and snug around the seat and thighs. Straight cut all the way down. | Loose fitting and baggy. Cut the same all the way through the leg. |
| Seat | Roomy | Roomy | Close fitting | Very loose fitting |
| Hips Through Thigh | Roomy and relaxed. | Loose in the hips then tapers slightly through the thighs. | Straight – neither taper in nor flare out at the hips. Tighter feel on the hips than the other fits. | Very loose fitting. |
| Thigh Through Leg | Roomy without being baggy. Relaxed fit jeans are often cut with a subtle taper or straight through the leg. | Straight cut to the ankle. | Straight cut to the ankle. | Very loose fitting with no difference in the knee and little structure to the shape. |
Are Relaxed Fit Jeans Low, Mid or High Rise?
Relaxed fits feature a longer-than-average rise – that's the length from the crotch to the waistband – making them suitable for high-waisted wear. Mid-rise jeans are popular for being comfortable on the waist, making this a prominent rise option in relaxed jeans. Jeans with a low rise are less common, but relaxed lowriders are a trendy choice – particularly for a retro 90s look.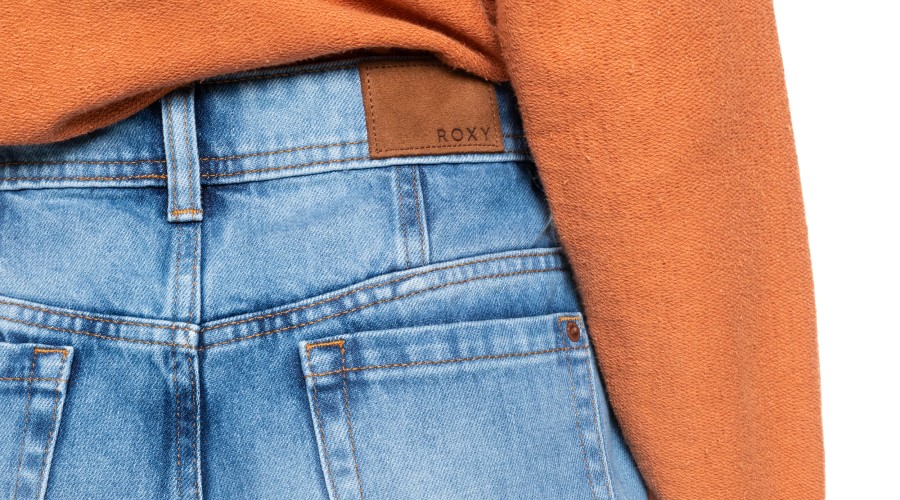 Relaxed Fit Jeans and Body Shape
The laid-back structure of relaxed jeans means they feel comfortable on most people and body types. Relaxed fit jeans suit curvy body shapes as the cut provides a more uniform silhouette. The extra fabric around the midsection minimizes the tummy, butt, and thighs – great for curvy as well as athletic bodies.
Those with slimmer legs who normally feel swamped by baggy jeans can still get a loose fit in relaxed jeans. They can also balance your figure if you're tall, very slim, or have broader shoulders than hips.
How to Style Women's Relaxed Jeans?
Off-Duty
To perfectly execute the model-off-duty aesthetic, pair regular fit blue jeans with a crop top and an oversized blazer. Match a high-rise pair with a simple bodysuit. Or, wear a pair of relaxed ankle grazers, a loosely tucked-in shirt, and a statement jacket – vinyl trench coat or leather-look duster coat. Keep colors neutral and makeup muted with a bold lip. Wear with classic white trainers or black boots, or elevate the look with a pair of cheeky high heels.
Vintage Americana
For an old-school, all-American vintage look, wear relaxed fits with a white tank top or tee and a denim jacket – in a matching or clashing wash – or try a tied-up shirt in a polka dot or gingham print. Balance the relaxed ease of this cut with a fitted sweetheart neckline blouse. Roll up the hems and pair with a minimal button-down – take it all the way with a pair of saddle shoes and white socks, layering with a letterman jacket. Add a bandana around the neck or tie your hair up for a nice finish.
Hippy Chic
Relaxed jeans suit this style well – especially relaxed fit flares. Peasant tops with embroidery, loose fitting blouses with bell sleeves, and crochet tops all accentuate this look. Stick to natural hues and vibrant prints. Accessorize with turquoise jewelry and fringe detailing. Pair relaxed fit jeans with sandals or pointed boots.
Cottagecore
Similarly to hippy chic, the cottagecore aesthetic lends itself readily to relaxed fit jeans as it compliments the rustic, slower-pace-of-life vibe. Embroidered and printed relaxed jeans are great for this look, as well as minor distressing and rips. Get earth-toned relaxed jeans and wear them with a floral or ruffled blouse – a yolk, shirring, or a milkmaid cut are great details to look out for. Layer with an oversized cardigan. Classic shoes like faded boots, lace-up brogues, and mary-janes suit this style.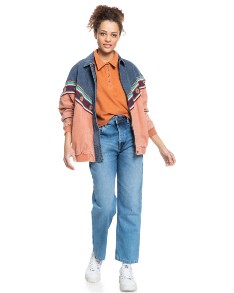 Smart-Casual
Ankle grazer relaxed fit jeans lend themselves to the smart look better than full length – but both can work well. A statement blouse and 2-part sandals are a winning combination. Try a tucked-in shirt and color-pop jacket with peep-toe heels, or let a shirt collar peek out from underneath a fitted sweater and pair it with a dressy shoe or ankle boot. Mix it up by rolling the ankles up and always pair with a chic handbag.
Y2K
Relaxed fit jeans – with or without a flare at the knee – are quintessential Y2K. Match them with scarf tops or motif camis. Baby tees, chunky trainers and mini cardigans are all go-tos. Layer with a faux sheepskin coat in a neutral tone or a color-pop. Accessorize with a choker, baguette bag, and mini sunglasses.
Retro Grunge
Relaxed fit jeans are perfect for executing a more casual grungey look. Plaid jeans suit this aesthetic as well as distressed pairs – try wearing with fishnet tights showing underneath. Pair with a loosely tucked-in band tee or a crop top with a loose open shirt as a layer. Belt chains, chunky boots, and old-school sneakers work well with this style.
When it comes down to it, relaxed fits can be an unexpectedly chic choice – especially if you're known for wearing more form-fitting styles. Relaxed fits take the classic regular cut and make them that much more comfortable and effortlessly cool. Invite a dynamic element into your closet if you haven't already.