Skinny Fit Jeans Styling Guide for Women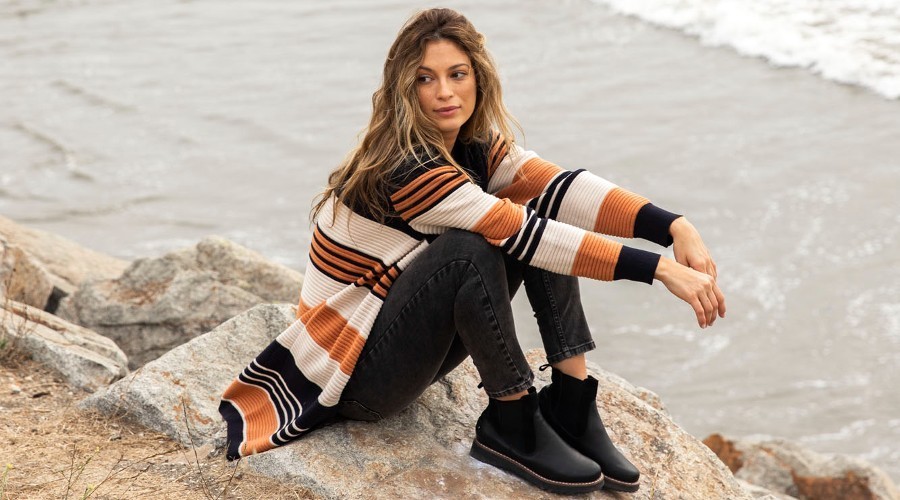 Modern skinny jeans rose to popularity in the mid-2000s with the rejection of the baggy jeans of the '90s and the explosion of the tight-legged look on couture runways – notably the 2005 Dior Homme show. A sleek fit that can be styled a thousand ways, skinny jeans are a wardrobe hero, and – though they may rise and fall in prevalence – they are most definitely here to stay. This guide will take you through everything you ever wanted to know about wearing skinny fit jeans.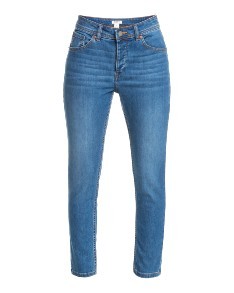 What are Skinny Fit Jeans?
Skinny fit jeans are the tightest cut of denim jeans, often produced with elastane for extra stretch. They are tight-fitting around the waist, hips, seat, thigh, all the way through the knee to the ankle, with a small ankle opening.
What Body Types and Features do Skinny Fit Jeans Highlight?
Skinny fit jeans look great on people of all body types – it's really all about what you pair them with, how you accessorize, and making sure you feel confident in your own skin. Here are some tips that can help guide you in the right direction.
Each and every contour is accentuated in skinny jeans – great if you want to show off what curves you do have. Being a form-fitting cut, the number one feature that skinny jeans spotlight is your butt. The tightness can lend an uplifting quality to your posterior.
If you have a petite frame you can take advantage of the leg-lengthening effect of a high-waisted pair of skinnies. A high rise also highlights the smallest part of the waist, sculpting curves onto those with straighter torsos. Shorter torsos can be balanced by a low or mid rise pair.
Unlike other styles, as the material is fitted, it adds no additional bulkiness to your silhouette – producing a slimming effect on all body shapes.
If you have thicker legs or thighs, a high or mid rise will call attention to the hourglass figure as it emphasizes your waist.
Athletic bodies also suit skinny jeans because their stretch shows off muscle definition.
What is the Difference Between Skinny and Slim Fit Jeans?
Skinny Fit
Slim Fit
Overall Fit

Figure-hugging and defining, showing off every contour.

The cotton denim will be blended with a stretchy fiber like elastane. Skinny fits stretch around your legs and move with you.

Close-fitting, showing off your natural shape but doesn't cling to every contour.

Little to no stretch – the denim may be pure cotton and rigid, or blended for increased elasticity.

Waist
Snug – not too tight or constrictive.
Fitted.
Seat
Tight-fitting and snug.
More wiggle room than skinny fit jeans. Less form-fitting at the crotch with more fabric in that area.
Hips through thigh
Snug and form-fitting.
A little more fabric around the thighs than skinny jeans for a less tight feel.
Knee through leg
Form-fitting – however, they may widen at the calf for more of a hybrid cut – skinny flare or skinny bootcut.
Narrow, and often tapered to the ankle.
Leg opening
Smallest ankle opening of any cut.
Larger opening than skinny jeans, but smaller than regular fit jeans.
How Should Skinny Jeans Fit?
When wearing skinny jeans, they should hug your body. The jeans should feel tight but not constrictive, and should not cut off your circulation anywhere. Proper-fitting skinny jeans won't wrinkle or bunch up too much behind the knees or at the ankles. As with leggings, you should be able to sit down comfortably.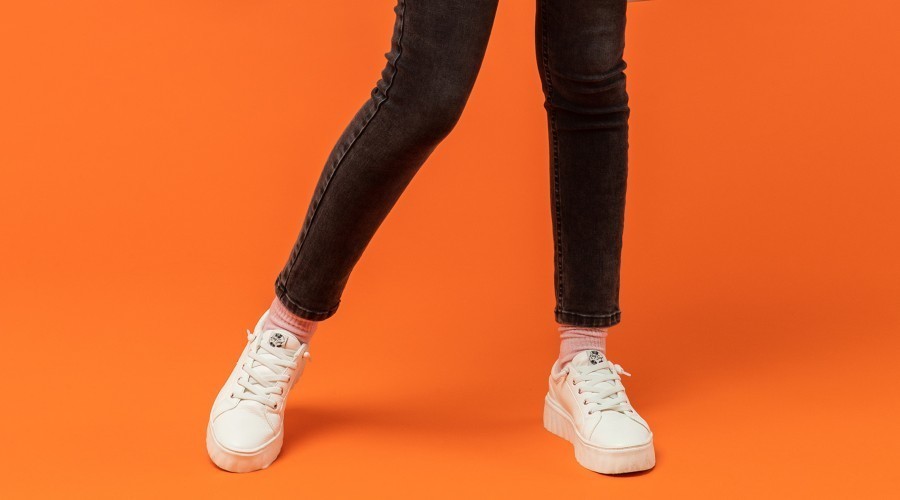 What Rise Options Look Best on Skinny Fit Jeans?
Good news – skinny fit jeans look great at all rise options.
High rise remains the most popular choice because skinny jeans' figure-hugging nature shows off the slimmest part of your waist and elongates your legs in the process.
Low rise skinnies aid a more retro feel when paired with crop tops. They are also favored by those who love the leg-sculpting effect of skinnies but don't like the way they feel on the stomach. Low rise skinny jeans provide a comfortable alternative.
Mid rise skinny fit jeans sit just below the navel and can show off the belly while still sitting quite high on the waist for a look that's the best of both worlds.
How To Style Skinny Jeans for Women
Sitting like a second skin, skinnies lend themselves to an entire range of timeless and tasteful looks. They are arguably the most versatile jeans you have in your wardrobe.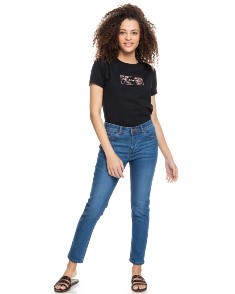 Wear your ankle grazer skinny jeans with low-top sneakers and a tee or loosely tucked-in shirt for a simple, casual statement. Finish with a leather jacket or blazer and a bold lip color.
Try out denim-on-denim in the same wash or same color family. Jean jackets and denim shirts are classic Americana. Underscore the look with a broad-brimmed hat or tone it down with a baseball cap.
For the hyper-trendy Y2K look, wear skinny jeans or skinny flares in a mid or low rise. Pair with a butterfly or scarf top and a mini cardi. Try jeans with graffiti or patchwork for aesthetic-appropriate accents.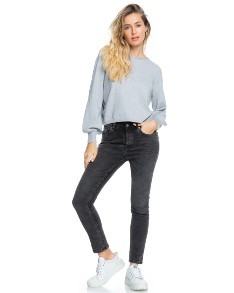 Skinny jeans and their figure-hugging quality also works well with a soft feminine aesthetic. Accentuate this look with romantic blouses – anything made of chiffon, with ruffles, sweetheart necklines and deep plunges. A cropped milkmaid top will draw attention to your waist. A peplum will emphasize the curvature of your body. Finish with high heels – ankle strap sandals, pointed patent pumps, or square-toe mules.
For a more off-the-wall look, try distressed skinnies and classic skater trainers or heavy boots. Match with a loosely tucked in plaid shirt or a band tee. Finish with a belt chain. Jeans with extra zips, studs, lace-up sections, or paneling will enhance this retro grunge look.
Embrace utility with a military jacket and combat boots. Take it all the way with a skinny fit jean in khaki or beige.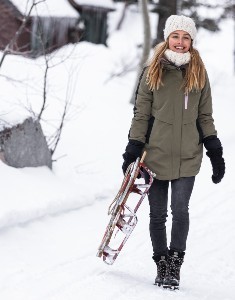 Skinny fits allow you to show off what shoes you're wearing more so than any other fit, so work a pair of boots. Don't be afraid to let the denim bunch up a little. Over-the-knee boots and skinny fit jeans allow for a flirtatious wintertime look. Wear a high-waisted pair with a sleek bodysuit and cropped knitwear to enhance an hourglass figure, and accessorize with a beret and oversized scarf.
Commit to monochrome – an all-black outfit over skinny jeans is slimming, chic, and an easy go-to. Solo-colored outfits also work well with statement jewelry and accessories, and allow nail art to truly pop.
Now you're ready to find your perfect pair of fashion-favorite skinny jeans. Their simplicity makes them the ideal pair for dynamic inventive styling or casual everyday dressing. Whether you style them up or down, you can always find yourself well-dressed.
Related Guides:
Regular Fit Jeans Styling Guide