How To Style Oversized Jackets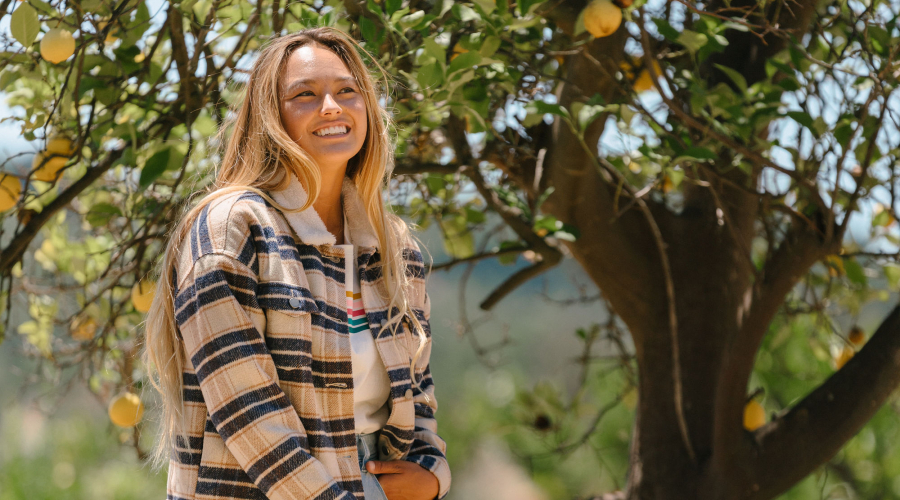 Who doesn't love an oversized jacket – they're comfortable, cozy, and add a fun layer to any outfit. The larger fit creates a casual look that can also be elevated with the right accessories. How to style an oversized jacket relies on balancing the added volume the jacket brings with other elements in your outfit.
Oversized Denim Jacket Styling
A good jean jacket is a staple piece – and an oversized one updates the look with a new silhouette and more layering opportunities. Denim famously goes with anything – here are some tips for how to style a loose denim jacket, whatever the weather.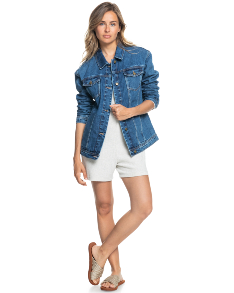 For Warmer Weather
Light and versatile, an oversized jean jacket is the perfect layer for sunny days that call for shoulder coverage. Balance the added volume and length with something tighter or shorter – like a romper, a mini skirt and baby tee, or a short sundress, and finish off the look with a micro color-pop bag.
Try a matching or contrast denim skirt or cutoffs, accented with a belt – leather or scarf style. Wear a breezy maxi dress for an easy day-to-night transition.
For a more off-duty look, go for basketball or dad shorts and a loosely tucked-in tee or bandeau.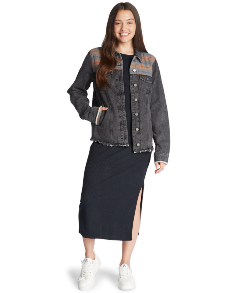 For Colder Weather
When outside temperatures dip, layer up underneath an oversized denim jacket. Pull off an effortless and carefree look with a hoodie and skinny jeans, or go even further with a plaid shirt underneath, with the collar and hem exposed, and finish off the look with an oversized scarf. For a more tailored look, try a fitted bodycon midi dress to complement the jacket's relaxed fit – wear tights for added warmth.
In colder climates, invest in an oversized denim jacket with fur or sherpa lining. Turn a mini dress into an all-season outfit by wearing it with tights or long socks and over-the-knee boots. This type of jacket welcomes a tiered maxi skirt or dress, and a cropped knit or sweater vest as a cozy layer. Create contrast with textured flare pants to achieve a curvier silhouette.
Oversized Puffer Jacket Styling
The puffer jacket is a fashion favorite, and an oversized puffer can produce a polished look, or give a solid streetwear vibe. What to wear with a puffer jacket depends on the style – bomber, midi, maxi, or belted – and your personal taste.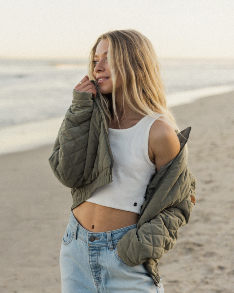 For Warmer Weather
When it's warm out but with potential for variable weather, an airy, oversized puffer jacket outfit can be a great versatile option. Try a puffer bomber with a pleated tennis skirt and a jersey or knit cropped cami.
Keep it simple and stylish with a crop top and jeans for an easy, warm-day to cool-night transition – a larger jacket works well with a lower waist, so try a mid-rise pair. For a brighter option on sunny days, look out for a pop-color puffer.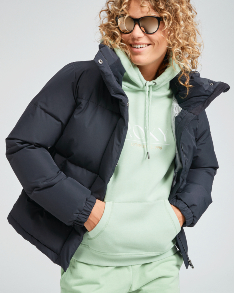 For Colder Weather
Ideal for colder weather, style an oversized bomber jacket with a 2-piece sweatsuit. Pair with relaxed cargo pants or distressed wide-leg jeans for a grungier aesthetic.
The oversized midi or maxi puffer is the essential layer of the moment, bringing a casual yet refined quality to styling. Complete the look with combat boots. You can't go wrong with jeans – mom, straight, skinny or flared – and heeled ankle boots. A belted oversized longline puffer jacket accentuates the waist and gives an on-trend silhouette – ideal for wearing over a dress and highlighting fun footwear.
Oversized Corduroy Jacket Styling
Corduroy gives us a nostalgic '70s feel while serving as a stylish alternative to denim. An oversized corduroy jacket outfit is a day-to-day layering option with a unique textural finish.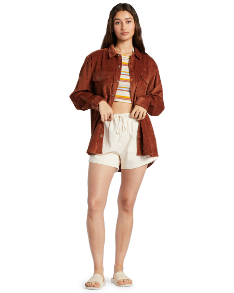 For Warmer Weather
When wearing an oversized corduroy jacket as a breezy top layer, pair it with flared pants or jeans and a crochet blouse for a vintage look.
Change things up with a t-shirt dress and sliders. Serve up some summer vibes with scallop hem shorts and a halter-neck crop top and gladiator sandals or low-top sneakers to complete the look.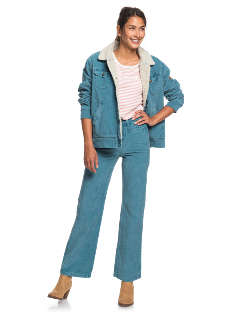 For Colder Weather
Embrace differing textures and match an oversized cord jacket with leggings to offset the relaxed top half. Wear it with a long-sleeve body or blouse. For an understated and classic look, wear a boxy crop or boyfriend tee with either matching or contrasting fitted cord bottoms.
Look for a borg-lined corduroy jacket to keep warm in wintery weather. Try a knitted midi skirt and heeled or chunky boots. This type of jacket also goes well with a sweater dress for a cozy and comfortable quality.
Oversized Fleece Jacket Styling
Oversized sherpa jackets and fleeces are perfectly suited for casual, cozy, and streetwear styling.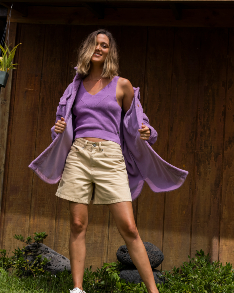 For Warmer Weather
A lightweight oversized fleece jacket can be the ultimate top layer if you're out all day at festivals or even at the beach where it gets colder in the evening. The airy fit allows for ventilation, so you won't get too hot.
Match shorts or denim cutoffs with a color-block or patterned oversized fleece for a playful touch. Go for a totally laid-back look with short dungarees or a romper.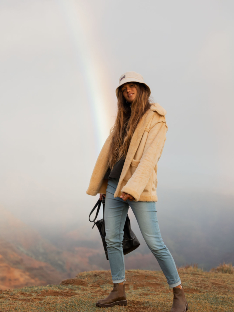 For Colder Weather
This jacket option is undoubtedly made for wintery days and cool climates. A fluffy oversized sherpa jacket with black leggings is a timeless go-to. Complete the look with statement sneakers and socks pulled up over the leggings.
You can't go wrong with mom fit or skinny jeans, ankle boots, and a long-sleeve t-shirt or thermal. Top it off with a bucket hat or bobble beanie. Pull off the y2k aesthetic with a cropped oversized fleece over baggy wide-leg jeans and platform sneakers.
Oversized Coat Styling
Knowing how to style an oversized coat requires balancing out the volume of each piece you wear. And if it's done right, you'll have a bold and stylish look you can wear on any adventure.
For Warmer Weather
Made with lighter fabrics, summer coats offer more ventilation, allowing you to stay cool while offering some sun protection. An oversized warm weather coat elevates an outfit. Style a baggy mac coat or duster with an oversized shirt and sweater vest combination – wear as a dress and finish with boots.
A boyfriend tee, biker shorts, tube socks, and sliders or chunky sneakers complete a confident athleisure aesthetic. Or, keep things flowy with a long prairie dress and sandals – wear combat boots instead for a grunge twist. Offset the oversized coat's roomy fit with a slip or bodycon dress.
For Colder Weather
An oversized jacket with a roll neck sweater, tapered pants, and loafers add a preppy element, especially if accented with a wool beret and a cute pair of socks. Mix it up with a collared shirt under a cropped sweater or button-down cardigan.
Tailored wide-leg pants with a long oversized coat produce an edgy look – especially if the coat is belted to define the waist. Try a hoodie and joggers with a cropped coat and baggy high-rise jeans for an oversized jacket outfit with a retro twist.
Oversized Leather Jacket Styling
Leather jackets are great for elevating any outfit. How to style an oversized leather jacket depends on the type – classic biker, moto, flight jacket, coat, blazer, or button-down.
For Warmer Weather
A button-down leather shacket and biker shorts with statement sneakers is quickly becoming an everyday favorite. Pairing a classic or cropped oversized biker jacket with jean shorts is timeless Americana – or keep it punk with a more distressed pair and accessorize accordingly.
Contrasting a sundress with an oversized leather biker or trench coat is a modern wardrobe outfit that effortlessly blends edginess with softness. An oversized blazer or long jacket in faux or real leather calls for a satin mini slip dress and heeled sandals for a warm weather ensemble.
For Colder Weather
Oversized leather jackets are ideal for the fall-winter layered look – wear a hoodie with a flannel shirt peeking out underneath, and match with mom or skinny jeans. Wear a long leather jacket with almost any dress.
Try a bralette over a long-sleeve body and wide-leg pants under a long belted jacket. A sherpa-lined bomber is a winter wardrobe hero you can wear with almost anything.
Oversized coats are a timeless, versatile style layering option that can be dressed up or down – and are forever considered cool. Embrace freedom and comfort while creating layer-worthy looks.
Related Guides
Beach Dresses & Cover-Ups Guide
How To Style Regular Fit Jeans
How To Style Relaxed Fit Jeans