How To Dress for Snowboarding: The Essentials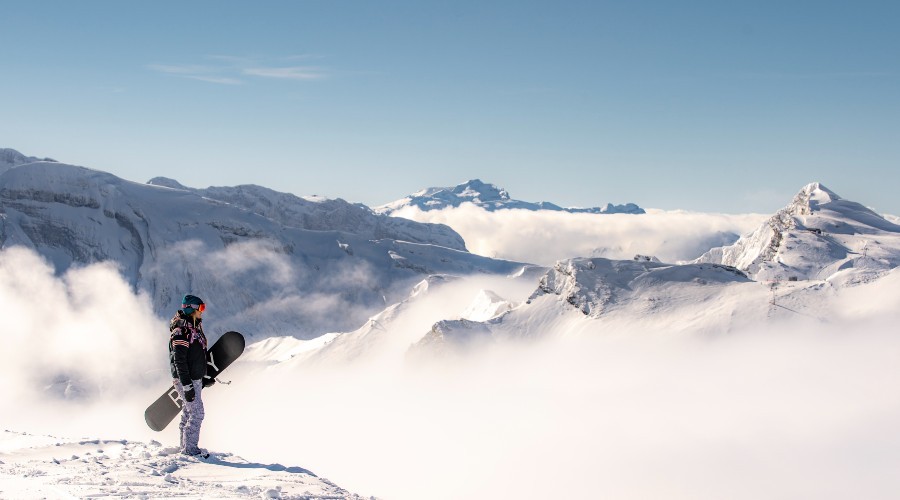 Knowing what to wear when you go snowboarding is vital to making the most out of your time on the mountain. This expert guide will tell you everything you need to know before you go.
Snowboarding Packing List: The Basics
Besides a snowboard, the following items are either essential or highly recommended for a successful and fun day on the mountain.
Boots. Snowboarding boots are a specialist item designed to deliver warmth, support, durability and waterproofness while snowboarding.
Outerwear. A waterproof, breathable jacket and pants will keep the warmth in, and the weather out.
Layers. Adding and subtracting clothing layers is the key to adapting to the conditions around you.
Gloves. Snowboard-specific gloves will provide warmth, waterproofness and protection.
Goggles. Protect your eyes and maximize your vision in a wide variety of conditions.
Helmet. Maximize your safety on the mountain with a wintersports-specific helmet.
What To Wear Snowboarding: First Time or Advanced
If you're a first-timer or beginner, you'll probably want to rent a snowboard, boots and bindings as these are widely available at most resorts. It's also a good idea to borrow whatever gear you can and wait until you're sure you enjoy snowboarding enough to invest in your equipment.
If you already own some warm clothing, thermal underwear and a waterproof jacket and pants – great. All you'll need to invest in for your first snowboarding experience is a helmet, a pair of goggles with a multi-conditions lens, and some good snowboarding gloves or mittens – gloves are especially important for beginners, as they spend a lot more time picking themselves up off the snow.
As a beginner, it's also a very wise move to invest in a full set of skateboarding protective gear (wristguard, elbow pads, knee pads) to wear under your outerwear – as well as reducing injuries, staying well protected during the early days helps boost your confidence, and you'll progress much faster.
Once your skills and enjoyment of snowboarding have improved, you'll probably want to start investing in big-ticket items like your own hardware (board, boots, bindings) and some snowboard specific outerwear – make sure you read our other expert guide on choosing the right snowboard jacket and pants to learn everything you need to know.
Snowboarding Basics: Layers
Maintaining a comfortable personal climate while snowboarding is not easy: snowboarding is a sport where you typically alternate between intense activity (riding) to rest (chairlift) multiple times a day, and temperatures on the mountain can fluctuate wildly on any given day.
To stay comfortable in these varying conditions, it's vital to keep your skin dry using a technical, moisture wicking base layer, and stay warm (but not too hot) by adding and subtracting mid layers according to the outside temperature. This system is known as layering, and it's the key to having fun on the mountain, no matter what the weather throws at you. Here are some basic pointers for getting your layering right.
Your base layer should be stretchy, for maximum freedom of movement, and snug-fitting for minimum bulk. Avoid cotton-based fabrics as they absorb and hold moisture, rather than wicking it away from the skin. Instead, look for technical synthetic fabrics like polyester, or merino wool, which are warm, fast drying and very efficient at wicking moisture away from the body.
One or more mid layers can be worn between your base layer and outerwear to provide extra insulation that can be easily removed if you're feeling too warm. Mid layers can be sweaters, fleeces, sweatshirts or any other kind of clothing, although again, synthetic fabrics.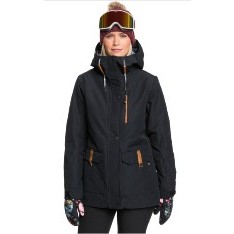 Snowboarding Basics: Snowboard Jackets
There are two basic types of snowboard jacket – insulated and un-insulated (shell). Within these two categories, there is a wide range of waterproofness, styles and features that cover all types of conditions, and all types of snowboarder.
Insulated Jacket or Shell? Insulated jackets are a popular choice as they deliver instant warmth and comfort in cold, wintry environments. The amount of insulation can vary from a lightweight, low bulk lining to a thick, warm down, depending on the intended conditions. Some jackets feature removable insulation, usually a fleece layer that can be easily zipped in and out of the jacket. These are known as 3-in-1 jackets. Meanwhile, un-insulated shell jackets tend to be more popular for spring riding, and advanced riders looking for high-performance waterproofness and breathability.
Waterproofness and breathability: because snowboarders typically generate a lot of body heat and sweat while riding in a cold and often very wet environment, modern snowboarding jackets are designed to stop water from coming in, while allowing water vapour to escape. This is achieved by combining a nylon or polyester 'face' fabric with a semi-porous inner membrane. These porous membrane coatings vary considerably in waterproofness, breathability (and cost), so to give the consumer an idea of how much protection they can expect, outerwear comes with a waterproof rating and a breathability rating. In the snowboard outerwear market, 5k/5k waterproofness/breathability is generally seen as providing entry-level performance, while premium products like Gore-Tex are around the 20k/20k mark.
Essential features: while there are lots of snowboarding and skiing-specific features available, there are a few that are absolute essentials to watch out for. Underarm venting is vital to dump excess heat and moisture buildup. A snow skirt, aka powder gaiter, is an elasticated flap of waterproof fabric that goes around the waist to keep snow from coming up inside the jacket. Cuff gaiters are an internal jacket sleeve that slips inside the wearer's glove, preventing loose snow from entering at the wrist. Finally, an adjustable, helmet-compatible hood is great for keeping out wind and snow when the weather turns nasty, especially on exposed chairlift ascents.
Snowboarding Basics: Snowboard Pants
There are basically four types of snowboard pants – insulated, un-insulated, shell and bib/overalls. Because the insulation is less important for the legs than the torso and most riders wear a thermal base layer underneath, insulated pants usually contain lightweight, low-profile synthetic insulation to add extra warmth without adding bulk. un-insulated pants offer a liner for extra comfort, and shell pants are made with technical 3L fabrics that do not require a liner and offer the most breathability. Bib or overall style pants are a fashionable and functional option that extends coverage up past the waistline, making them ideal both with a jacket in winter conditions and without in warmer spring conditions.
As with snowboarding jackets, the two essentials to look out for when choosing snowboard pants are mesh-backed venting around the inner thigh/knees area to quickly dump excess heat and moisture, and elasticated ankle gaiters that stretch over the boot and prevent snow from getting in.
Snowboarding Basics: Helmets
Helmets used to be a rarity on the mountain: not so today. Thanks to constant improvements in awareness, safety, comfort and style, helmet use have rocketed in recent years and today 80% of snowboarders and skiers wear a helmet on the snow, whether they are beginners or pros. The safety benefits are clear: wearing a helmet reduces the incidence of head injuries by 30 to 50 percent, with no negative effect on balance or peripheral vision. Here's a brief checklist of helmet do's and don'ts.
DO ensure the helmet conforms to a recognized safety standard, such as the Snell RS-98.
DON'T wear a cycling, skateboarding, or any other non-snow-specific helmet.
DO check the helmet feels secure (but not tight) around your head and the chin strap is secure under your chin.
DON'T forget to take your goggles along when trying out a new helmet, to ensure compatibility.
DO look at ventilation and padding to ensure it's a good match for the temperatures you'll be mostly riding in.
Snowboard Basics: Boots
Possibly the most important equipment item on this list, finding the right pair of snowboard boots, is essential to making the most of snowboarding. Firstly, they need to be a great fit, and both warm and supportive enough to keep you comfortable through a full day's riding. Then, they need to work correctly with your bindings to create a secure and responsive interface between you and your board. Finally, they need to be waterproof and durable enough to survive months of punishment from snow, ice, rocks and binding straps. For this reason, it's important to fully research the market and it's worth investing a little extra cash for the right pair of boots, if necessary. Here are the key factors to take into consideration when shopping for your dream pair of snowboard boots.
Flex: Most boots come with a flexibility rating ranging from soft to stiff, and while flexibility is largely down to personal preference, it's also good to think about your riding style when shopping for boots. For example, while a soft pair of boots might feel great in the store, if you have weak ankles or enjoy riding fast on challenging terrain, you may benefit from a stiffer, more supportive boot. Meanwhile, if you are into hitting obstacles in the snowpark or cruising in powder, then you'll probably prefer the feel and comfort of a soft, flexible boot.
Fit: a snug, secure fit is important to ensure your turns are smooth and responsive, as well as to reduce the risk of blisters and muscle strain. Ankles and heels should be held firmly in place, with a minimal heel lift, as this will affect your ability to make toeside turns.
Lacing: there are three main lacing systems on the market – traditional, quick pull and Boa. Traditional boot lacing is simple and effective, but some users find they cannot get them as tight as they want. Quick pull systems are fast, can be used while wearing gloves, and allow for multi-zone adjustment. However, they are prone to loosening and may need to be adjusted over the course of the day. The Boa System uses a metal cable and a ratchet-type dial that allows the wearer to quickly and easily tighten (and loosen) their boots for a precise, secure fit. The main downside to this system is the extra cost and the fact that you can't fix them if they break on the hill.
Liner:

While some boots feature an integrated liner, most snowboard boot liners are fully removable – this rapidly increases drying times – a must for starting every day of your trip with warm, dry boots. There are several liner types, starting with basic molded EVA foam rubber, moving up to thermoformable liners that use body heat to break into your foot's general shape, all the way up to custom mouldable liners that are heated in-store to create a custom fit unique to your feet. There is a huge variation of liner quality between brands, so always remove the liner from the boot shell and check it for construction and fit before you buy.

Footbed: like liners, the quality of stock footbeds varies a lot between brands, so if your boot's footbed offers little in the way of arch support, consider replacing it with a quality athletic footbed, or possibly even invest in a custom molded footbed for the ultimate in comfort and support.
Gloves
Nothing takes the fun out of a day on the mountain faster than cold hands, so it's important to get a good, snowboard-specific glove for the job. A good glove or mitt should be warm, waterproof, breathable, and, above all, durable – snowboarding is extremely tough on gloves. Most gloves and mitts are made with a nylon/polyester face fabric and tough PU palm lined with a waterproof breathable membrane, low-bulk synthetic insulation and a fleece lining. However, waterproof leather is becoming an increasingly popular alternative to synthetic fabric, for premium products.
Gloves or Mitts? This is completely down to personal preference, and the type of climate you'll be riding in. Some prefer gloves for their extra dexterity, in which case you should also look out for touchscreen technology to allow smartphone access without getting your hands cold. If you're riding in sub-zero temps, go for mittens, as they are significantly warmer and generally feel cozy on the hill.
Other features to look out for are: a nose and goggle wipe thumb panel, easily-adjustable cuff closures, ergonomic pre-curved fit, and handwarmer compatibility.
Goggles
Cold, snow, rain, wind, bright sunshine and snow glare – even when you're riding in-resort, the mountains are an extreme environment and it's important to give your eyes the best possible protection, with a good pair of goggles. Goggle technology has improved significantly in recent years: today most brands offer goggles with a good level of anti-fog protection to stop them misting up, and high optical quality with full UV protection. When shopping for goggles, focus on fit: the goggle should sit comfortably on your face without any pressure points, and give you a full, unimpeded field of vision. If you own a helmet, take it along to ensure compatibility.
While most goggles come with a broad-spectrum lens that offers decent all-around performance, you might want to consider getting a few specialized lenses – a dark or mirrored lens to protect your eyes in bright sunshine, and a light, high contrast lens for snowy, flat light days. Each brand has its lens interchange system, so make sure you test for ease and speed of change before you buy.
What Else Do You Need for Snowboarding?
Socks
Wearing the right type of snowboarding socks is (almost) as important as good boots. A ski or snowboard specific sock will be ideal, being made of a fast drying, moisture wicking fabric blend like polyester or merino wool. Snowboard boots are designed to be warm and insulating, so choose the thickness of your socks based upon fit, rather than insulation – a very thick pair that restrict movement and circulation will make your feet colder.
Other things to look out for are an ergonomic, articulated design that will provide support and compression in all the right places, extra padding on pressure points such as the shin and heel area, and thinner, ventilated zones around hot spots like arches and toes. Left and right foot-specific socks can offer a noticeable improvement in overall fit. Finally, if your boots do run a little large, it's always better to wear one thicker pair than two thin pairs as this can lead to bunching and discomfort.
Snowboard Hats
Even if you wear a helmet while riding, it's always a good idea to take a warm and cozy beanie up on the mountain
Shop snowboard beanies & winter hats
Neck Warmers & Face Masks
When it comes to essential accessories for your snowboarding trip, there's no better investment than a truly warm and comfortable neck warmer, face mask, hood, or balaclava – after all, every other part of your body is under wraps and protected from the elements, why shouldn't your face? Usually made from warm, soft and stretchable fabrics like fleece, acrylic and merino wool, there are lots of options to choose from. Here's how the different options stack up, and what to look for.
Made with a simple fabric tube, a neck warmer is the classic option for keeping out gusts of wind and preventing warm air from escaping out of your jacket.
A face mask adds extra coverage to the neck warmer design, allowing it to be pulled up over the mouth and nose. Some are made with thinner fabric and held in place with the goggles, while others are made with thicker fleece or neoprene, and feature ventilation holes and velcro straps.
With its all-over design, a balaclava provides full face protection and will not slip down while you're riding, as face masks can sometimes do. They are also a great way to stay extra warm while wearing a helmet.
Hoods are becoming increasingly popular with snowboarders. A loose version of a balaclava, hoods provide a relaxed look and feel and lots of versatility – they can be worn over or under a beanie, down as a neckwarmer, and some are oversized to be worn over a helmet.
With so many different shapes, styles and materials on offer, it's important to think about the type of conditions you'll be wearing it in, as well as your style and fit preferences. If you're looking for simple UV and wind protection, then a lightweight face mask will be great. If you're looking for high levels of protection from the elements, then consider a fleece-lined hood or balaclava design. Happy hunting!