How To Choose The Right Women's Workout Clothes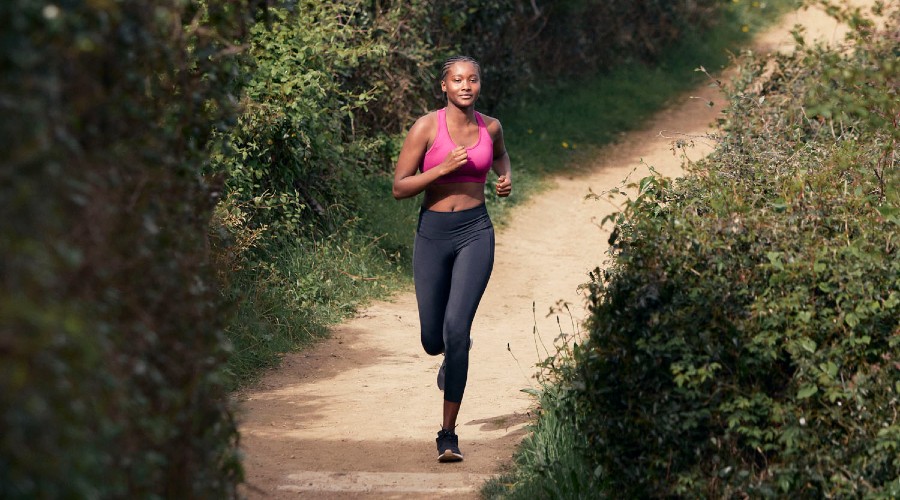 How To Choose The Right Women's Workout Clothes
There are more ways to exercise than ever before and even more apparel options to choose from. Some workout clothes are better for certain activities, others will protect you from the weather, and many include high-tech fabrics that will help you stay dry and cool. In this guide, we'll walk you through what to look for in fabrics, fits, and styles, and how to pick the right apparel for your workout.
How do I Choose the Right Workout Clothes?
The right workout clothes will support your muscles, protect your skin from chafing and rashes, and aid your body's thermoregulation – help you cool off when hot, and keep warm when cold. You should choose gym clothes that fit properly to prevent discomfort when working out. There are several beneficial features to look out for, such as gear that prevents bacterial build-up or protects you from the weather. The better the workout clothes, the better your body feels, and the more enhanced your overall performance.
Here are the factors you need to consider:
Fabrics
Apparel needs to have high breathability, allowing perspiration and heat to escape.
For low-intensity exercise where you don't expect to sweat very much – like walking or yoga – cotton is a great option because it is highly breathable and comfortable. However, cotton fibers are hydrophilic – meaning water sticks to them – and may become damp and heavy.
For higher intensity workouts, you want something that will keep you dry.
Moisture-wicking, fast-drying fabrics move sweat away from the skin and keep you feeling fresh. Synthetics like polyester, polyamides (nylons), polypropylene, and spandex do a fantastic job of wicking away sweat and drying quickly. Look out for options with antimicrobial properties or coatings, which reduce odors in synthetics by not allowing bacteria to grow or spread. Natural fibers such as bamboo and merino wool also wick away moisture but are often more expensive.
Fit
Loose Fit: Wearing loose-fit clothing lets us cool down easily. However, apparel that is too baggy can get in the way, snag on equipment, or cause us to trip and fall. Loose-fit clothes are best for activities like walking and running – as long as your pants aren't too loose around the ankles.
Tight Fit: When wearing tight-fit gym clothes, we need to make sure they aren't too tight, as this can cause discomfort and chafing. Go for workout clothes that are snug, but not too tight. Choose fabrics that stretch and move with you, seamless where possible or with soft seams to reduce the chance of chafing. When layering, wear a tight bottom layer and looser top layers that allow you to cool down more effectively.
Compression
Compression gear is no longer just for pro athletes. Clothes with compression have been found to improve performance and recovery. They work by compressing our muscles against us, providing support and stability, and increasing blood flow and circulating more oxygen to the muscles. Better oxygen circulation reduces lactic acid build-up, minimizing overall post-workout muscle soreness.
Weather
When we're exposed to the weather, it can go from mild to windy, or dry to wet during a session. Good workout clothes should minimize the effect that changing weather has on our bodies.
Warm weather: prioritize light, breathable, moisture-wicking fabrics, to keep us cool.
Cold Weather: dress in layers that you can shed as you warm up. Ideally, a tight compression bottom layer, a warm middle layer like fleece, and an appropriate weatherproof jacket if needed.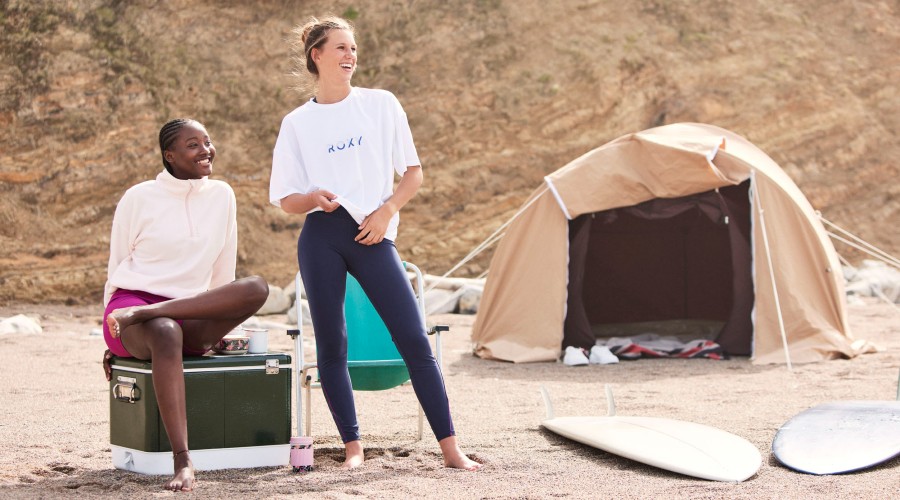 Types of Workouts
Whatever the workout, breathable and moisture-wicking fabrics are preferable, especially for base layers and underwear.
What You Should Wear: The Basics
Beach Workouts
Swimsuit, sports bra bikini top, rash guard, board shorts, surf leggings. A simple one-piece swimsuit, or a two-piece with a sports bra bikini top for free movement and ventilation. Layer with a rash guard – a lightweight top or bodysuit that protects your skin from the sun, and prevents rashes. They can be vest style, short-sleeved, or long-sleeved.
Boardshorts are a great option for bottoms as they are made of lightweight, quick-drying fabrics and give extra security. Shorter boardshorts allow better movement when swimming, and longer boardshorts provide more coverage, preventing sunburn.
Surf leggings are your go-to when it's not warm enough for shorts. Technical leggings are water-repellant, chlorine and sun cream resistant, designed not to fade, and provide UV protection.
UPF: Quality workout swimsuits and beachwear will have an ultraviolet protection factor aka UPF, similar to SPF, which lets you know how protective it is against the sun. A UPF of at least 30 is recommended.
Land Workouts
Yoga & Pilates: sports bra, leggings or yoga pants, fitted top. Low-intensity with lots of movement means you can choose loose or tight, nothing too restrictive with no loose ends – like drawstrings. Wear a fitted or adjustable top that won't ride up in different positions and poses.
Running: running shorts, t-shirt, base layer/long sleeve top, tights, wind-resistant jacket. Layer with weatherproof outerwear if outside. Many people find fits with more compression improve endurance, but many people are also comfortable running in loose clothing.
Hiking: waterproof jacket, fleece, fitted base layer, shorts, leggings or insulated pants. Weather-appropriate layering that you can shed as you warm up when hiking. There is a range of insulated, thermal, and waterproof jackets and coats to choose from. Layer up with a hoodie or technical fleece – designed to help you maintain your core temperature, with smart features like hand-warming pockets. There are many styles and fits to decide between. It's most important to choose what you feel comfortable in.
Weight-training: t-shirt, racerback vest, hoodie, joggers, loose shorts. A light, breathable top, and either shorts, leggings, or sweatpants, whatever you feel happiest in. A helpful tip is to wear layers to keep your muscles warm during your warm-up. As your body temperature rises, you can remove layers. You get more ventilation in a tank, but a t-shirt can protect your skin while training. You'll need a good compression sports bra as well. When you cool-down, you can put your layers back on.
Cycling: bike shorts, leggings, fitted top, weather-proof jacket, helmet. Depending on how long and how often you cycle, invest in bottoms that protect your groin area from chafing and discomfort, such as padded shorts or underwear. Tight fit clothing is safest and offers the best performance. A helmet is necessary to protect your head, and reflective patches on clothing keep you visible on the road. You should wear a weatherproof outer layer and pants if needed.
High-intensity interval training (HIIT): leggings, sports bra, fitted top. A good compression sports bra. Leggings or tight shorts to allow a full range of motion. Unrestrictive tops that are fitted but loose for ventilation.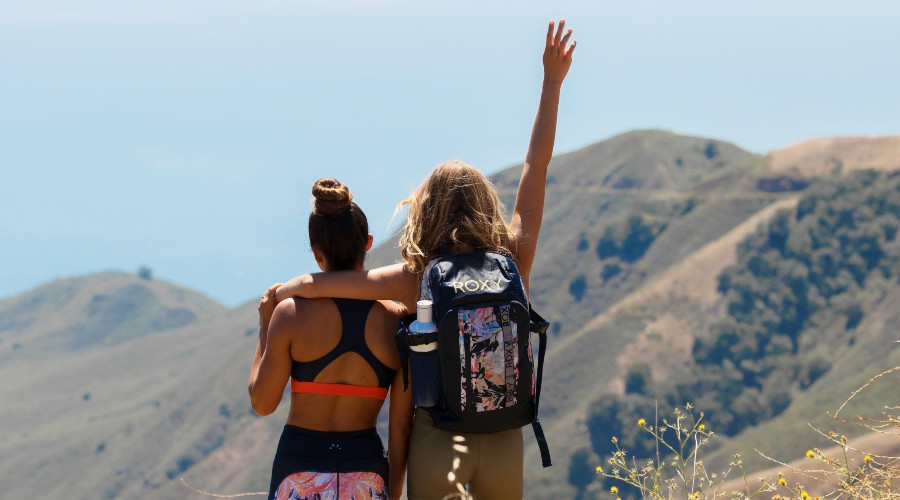 Indoor vs Outdoor Workouts
Training outdoors requires more consideration:
UV Protection: If you're exposed to lots of sun, you'll need UV protection. Covering up blocks some UV, so wearing long sleeves and leggings will protect you a little from the sun. Synthetic fibers – like spandex and polypropylene – are more protective against the sun than cotton. Shinier fabrics – like rayon – will reflect more sunlight. Many workout clothes have an ultraviolet protection factor – UPF – to guide you.
Color: Color is important too as wearing black during a sunny run could diminish performance as the sun's rays are absorbed and you heat up a lot. It's better to opt for white, or lighter colors on sunny days.
Visibility: Visibility at night is essential for safety. Gear in bright colors with reflective straps or patches that will help keep you visible.
Workout Essentials
Now you know what's needed for your workout, let's dig into the options available to you in each category. There are a few staples every active woman needs in her closet. Good sports bras, plural, that offer support for varying impact levels. Sweat-wicking, breathable tops, and bottoms are essential. Accessorizing appropriately with hats can also improve your workout experience.
Sports Bras
Selecting the right sports bra depends on the type of workout, the impact level, and the fashion sense and comfort of the wearer. Read our expert guide on How To Choose the Perfect Sports Bra.
Workout Tops
There is a range of workout top options:
Tank top: a sleeveless top with straps that go over the shoulder.
Racerback tank: a sleeveless top where the shoulder straps meet in the middle of the back, giving your arms a wider range of movement than a tank.
T-shirt/Sports Tops: if loose, choose cotton, a cotton-synthetic blend, or technical fabric. Odor doesn't cling to synthetics as much, and technical fabrics are made with smart features that can protect your skin, repel water, and support your body's thermoregulation. Loose arms and body will help you cool down. Anything more form-fitting should be made from a synthetic fiber that wicks sweat away from your body.
Long-sleeve t-shirt: Can better protect you from the sun, the cold, as well as protect your skin from equipment.
Compression shirts: usually a base layer, compression tops help increase blood flow to the muscles, reducing fatigue and improving performance.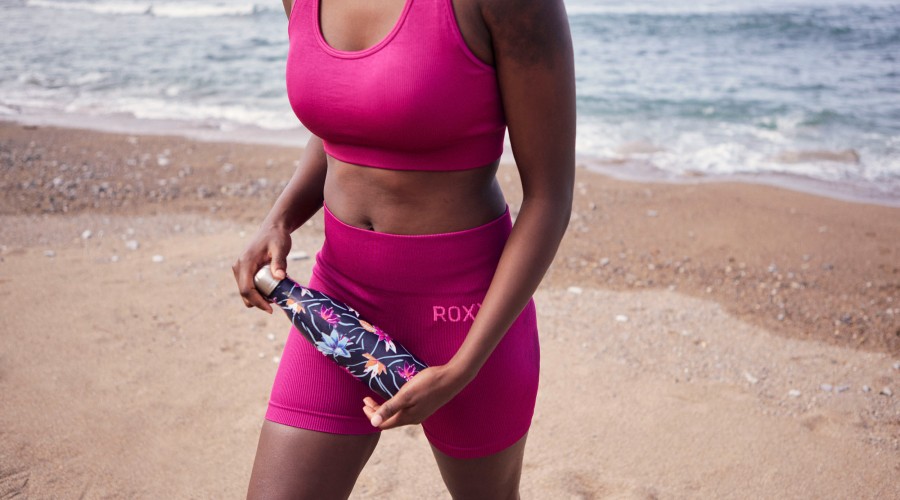 Workout Bottoms
Shorts: can be tight and offer compression or padding, or loose allowing more ventilation.
Workout Leggings: tight-fitting to offer the benefits of compression and unrestricted movement. Leggings can be full length, Capri style, or come with stirrups.
Joggers: come in a variety of styles, with options for loose or fitted cuffs, and loose, tapered, or skinny legs.
Read the expert guide on how to choose workout pants.
Workout Hats
Wearing a hat while working out can be beneficial for many reasons. Hats can keep the sun out of your eyes and absorb sweat. If it's made from the right material – wicking – it will evaporate the moisture.
Baseball cap: good for indoor training, as well as training in temperate to warm weather.
Beanie: keeps you warm during cold weather, can cover and insulate your entire forehead and ears.
Visor: popular with tennis players, visors keep the sun out of your eyes while allowing heat to escape from your head so you cool down.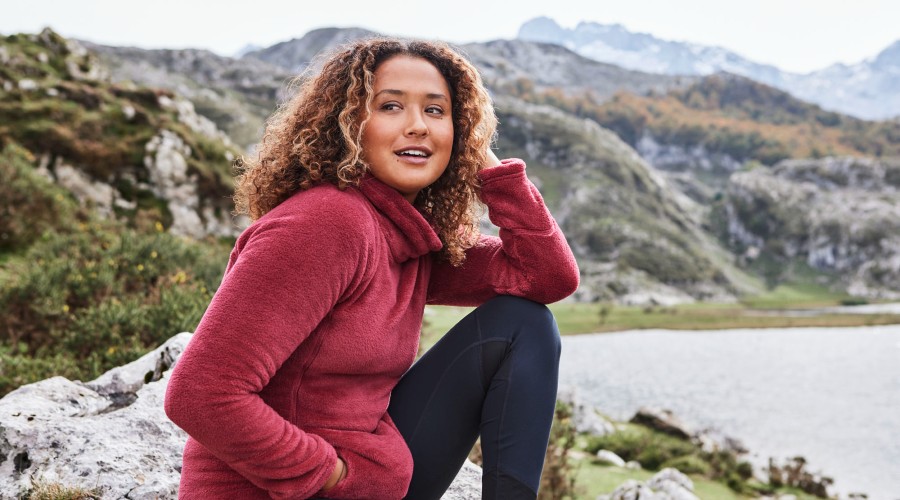 Hoodies & Layers
Sweatshirts and hoodies: often made from cotton or a cotton-synthetic blend, sweatshirts offer good insulation, great for raising your body temperature.
Fleeces: designed for colder weather where you aren't likely to sweat as much.
Sleeveless puffer jacket: keeps your core warm while allowing a range of movement.
Weatherproof jackets and coats: these vary depending on the weather. You may need waterproof if exercising in rain, or thick insulation if in extreme cold and snow.
Underwear and Socks
A sweat-wicking material like bamboo is great for socks and underpants, as they're soft and durable. Choose a breathable material for socks and underwear, ideally with anti-microbial properties that reduce the risk of bacteria building up and causing issues like thrush. Avoid working out in pure cotton underwear, or underpants that have thick seams – find some with few or none at all.
What Not To Wear When Working Out
Some things should never be worn during a workout, and some are best avoided for specific kinds of training.
Rubber or plastic materials: vinyl, pleather, you name it. Never wear anything that doesn't breathe. Without proper ventilation, you risk getting too hot, sweating too much, weakening your endurance.
Denim: heavy, and will get heavier with sweat. Denim garments severely limit your range of movement.
Stretched out bras: will not provide adequate support, which could lead to chafing, back pain, shoulder pain, or neck pain.
Too-tight clothing: nothing should restrict your breathing, or make it difficult for you to perform the desired activity. If an item of clothing restricts circulation in certain areas, this can cause cramps.
Overall, our performance is the strongest when we're most comfortable, so this is a priority. Feeling good, not too wet, neither too hot nor cold all factor in. Remember to compare materials, make sure it fits before we commit, and layer to keep you comfortable during your workouts.